Boys and Girls Golf Score Big at Conference and Regionals
Boys and girls golf seasons have come to a close after Sectionals on Oct. 13. Both teams placed first in the DuKane Conference and placed in the top three at Regionals. They also both competed at Sectionals: the girls sending the team and the boys sending two individuals.
The girls golf team placed first at the DuKane Conference on Sept. 28. They finished with a score of 339. Catie Nekola, junior, placed first individually with a score of 75. 
"I played what the day gave me and won, so it's incredible," said Nekola.
The team then went on to win Regionals with a score of 334 on Oct. 7. Nekola was the highest finisher from North placing second with a score of 78.
"It was great. It was such an amazing feeling because I had been having a little bit of a struggle and I ended up coming back with a few birdies and helping the team out," said Nekola.
The whole team qualified for Sectionals.
On Oct. 13, the team placed 3rd with a score of 349 behind New Trier and Loyola at Sectionals. This would have qualified the team for the state tournament, but there is no state tournament this year due to the coronavirus.
The boys golf team also placed first at the DuKane Conference on Oct. 1 with a score of 309. Alex Lilly, senior, won first place with a score of 74.
"We were very close in our conference matches during the year so to play our best golf at the end was nice to see," said Justin Moriarty, boys golf head coach.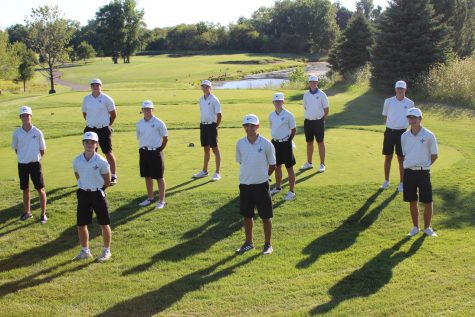 The boys team played at Regionals on Oct. 6. They placed third with a score of 331. They did not qualify for Sectionals as a team. However, Lilly, who placed sixth with a score of 80, and Mason Siegfried, sophomore, who placed seventh with a score of 81, both advanced individually to Sectionals.
"I wanted to be able to play well for [the seniors] because I knew they were bummed out that they weren't able to go senior year," said Lilly.
This year was different due to COVID-19 restrictions. Social distancing was required on the course at all times, and masks had to be worn at all times except when hitting. 
"It was a challenge to get used to. I think our coach did an amazing job walking us through, wearing our mask, hand sanitizing, all of that," said Nekola.
There were also less competitions, especially with the normal 18-hole course. Some competitions were cancelled or players only competed through 9 holes. 
"We were very limited in competitions and 18-hole events so it was kind of challenging once we got to Conference and Regionals. Those were like our second or third 18-hole events and it's a whole different perspective because it's twice as many holes and you have to be able to mentally go through that," said Lilly.
However, both teams were happy that they were able to play at all.
"We still had a season, and we are all very grateful for that," said Nekola.