St. Charles North Switches to Full Remote Learning Starting Nov. 30
On Monday, Nov. 16, the District 303 school board decided to switch to a fully remote learning plan from Nov. 30 to Dec. 4. During the Learning and Teaching Committee meeting, they discussed  the current surge of COVID-19 cases and the appropriate district response.
The Kane County Health Department recommended that all schools enter an "adaptive pause" of full remote learning starting on Nov. 23 through Dec. 4. The District 303 board decided to extend the remote learning time through Dec. 18. 
"[The Kane County Health Department's] concern stems from the 16.7% positivity rate countywide across all age groups and also the growth in the number of youth cases to a total of 628 new positive cases reported to the county for the week ending November 7. In District 303, we have also experienced a rise in cases among both our students and staff members that mirrors what is happening in our community," said Dr. Jason Pearson, Superintendent, and Mr. Nicholas P. Manheim, School Board President in an email sent to all District 303 parents on the evening of Nov. 16.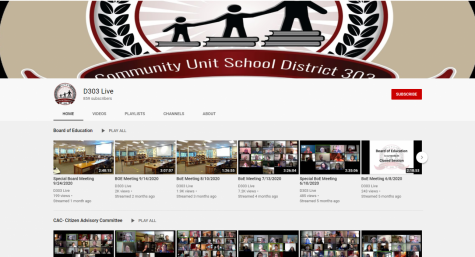 The recommended two-week pause would end on Dec. 4, a few weeks before the end of the semester. Instead, the entire district made all schools fully remote until Dec. 18. 
Ideally, however, the district wants to have students who chose the hybrid plan start it for the second semester on Jan. 5
As for the schedule, high school students will keep the block schedule they have been using for the past quarter, which starts at 7:20 each morning. Food distribution will be available with distribution sites available on the district website by Nov. 25. 
Teachers can continue to teach alone from inside the building if they prefer, similar to the beginning of the school year.
Despite the difficulties of this year, Pearson and Manheim expressed their gratitude for the trust and support they received from parents and staff.
"We appreciate the confidence you have placed in us, and your continued partnership in support of your children's education that will enable us to get through this together," said Dr. Pearson and Manheim in the aforementioned email.