The New Schedule: Explained
On Dec. 21, District 303 announced in a board meeting that, on Jan. 19, St. Charles North will have a third schedule change in order to "maximize in-person learning," said Dr. Denise Herrmann, Assistant Superintendent – Learning & Teaching & Chief Academic Officer. 
"In terms of the decision-making practice, we had a committee. We presented data to the school board back in November and December on in–person learning, and you know, how students were doing academically. And one of the things that the board continues to want us to do is to maximize in-person instruction," said Herrmann. 
Second semester began on Jan. 5, but this new schedule won't be implemented until Jan. 19. 
The two weeks between those two dates are meant to act as "a planning period" and "schedule adjustment period," said Herrmann.
She continued, the district aims to "give time for parents and students to make adjustments either to their work schedules, or dentist appointments or things like that. So because we announced it in the last week in December, we went ahead and gave that two weeks for teachers in their PLC groups to make any adjustments to the curriculum."
Teachers work in Professional Learning Communities, abbreviated to PLCs, to examine data, share teaching strategies and plan assessments.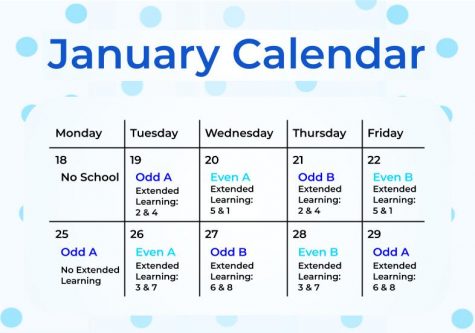 There are three major changes to the schedule: removal of remote Mondays, Extended Learning replacing office hours and an extra five minutes added to each class period.
In the previous two schedules, Mondays have been fully remote for all students. However, Mondays will now be a part of the rotating odd and even schedule that high school students have used all school year. 
Herrmann explained that "the remote Mondays are going away and those are being replaced by in-person hybrid days, so over a two-week period, you will have five in-person days and five remote days where before it was four and six."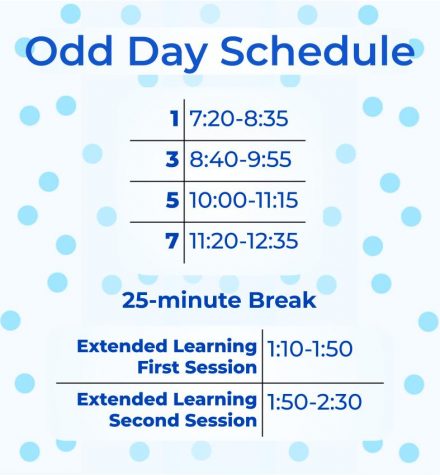 Students will follow a schedule of attending two days of in-person school in a row and then attend school remotely the following two days, resulting in some students being in the building twice a week and some three times.
In the new schedule, students will have Extended Learning.
"The purpose of the Extended Learning is to make sure that more students have the opportunity to have access to their teachers," said Herrmann.
Extended Learning will be replacing office hours. The main difference is that Extended Learning is mandatory if requested by a teacher, and students can attend the sessions in person.
Extended Learning is open to remote students as well. Students can attend either virtually and in-person.
"Extended Learning will be much more teacher-directed. And for some students, it will be required. For example, if you're getting a D or an F, or you have missing work, we will send a message home and to the student that this is a required attendance time," said Herrmann.
"So we wanted to make sure that we maximize [time students have with their teachers and equipment] because before all students had to leave campus, and they only could get help from their teacher, if it was, you know, remote. So, that's one additional way for students to access teacher and class materials," said Herrmann.
Some possible uses for Extended Learning include: allowing more time for students to take assessments, such as in a physical education course, hearing guest speakers present, such as in a social studies course, and "very directed intervention," said Herrmann.
Extended Learning will be organized using a new software system called Teach More. The app was developed by two teachers in California "who wanted to find ways to have access to their students for after school help," said Herrmann.
Herrmann has used it before in two other districts.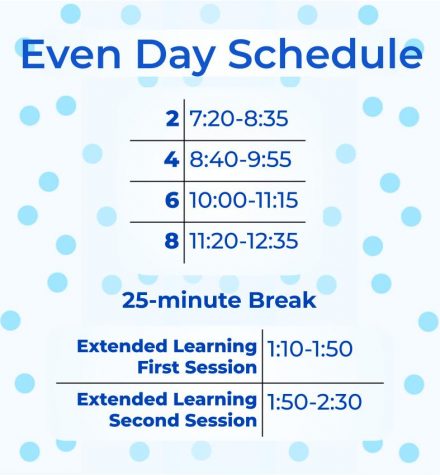 "But a lot of schools are using this now to plan teacher-student check-ins for lots of different things. Some schools use it to check in for dances; some schools use it for regular office hours or something like that. So there's a lot of different ways it can be used. It's very simple…But it is very user friendly, and I think everyone who is gonna be taking a part is really gonna like it."
There is no Extended Learning time on Mondays due to PLC meetings.
During that period, teachers will "analyze the data from the common assessments and see which students need help," said Herrmann. "And then they can plan for not only the things that they're going to do during class that week, but what might be some of the supports they offer for interventions for students." 
If a student does not attend an Extended Learning session when they were requested to, the teacher will check in with them.
"I think that the reason why we're making it required for some students is because they're not meeting their learning targets. And so that's our job. [It] is to make sure every student is proficient at the learning targets. So if they don't show up, we will follow up with the students and the parents, and continue to work with them to make sure the students do attend," said Herrmann.
Herrmann said that teachers, students and parents will have "direct communication" with each other.
She continued, "we want teachers and parents to be partnering. We don't want students failing classes. We want students being successful." 
Extended Learning takes place after a gap of 25 minutes during which students can eat lunch in designated areas. Part of the reason this time period is in place is so North can follow state guidelines surrounding students eating lunch.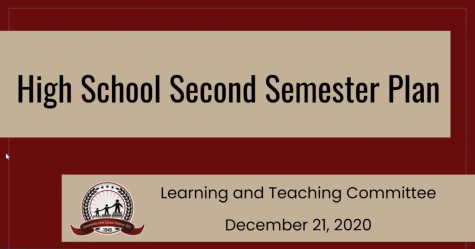 Another change is the addition of five minutes to every class period, making classes 75 minutes long instead of 70. 
"It was trying to eke out even a little bit more instructional time per class, but the reason why it wasn't longer is because we don't have the capacity to feed all 800 kids that will be in the building at the same time," said Herrmann.
The school day will now end at 12:35 p.m. while still starting at 7:20 a.m.
Herrmann predicts that this schedule will be the one kept at least until Spring Break. 
She thought that District 303 "would reevaluate in March and see if we have any additional opportunities to increase face-to-face instruction, but if not, then I think this would be the schedule that we would stay with."
For now though, we will be starting our third schedule of the school year. However, Herrmann believes that students and teachers will be able to successfully adapt to this new change.
"I just want to compliment the students and teachers on just their adaptability and the ability to stay focused on learning…and as we make these adjustments, we're not changing just for change's sake; we're changing to make sure as many students as possible are as successful as possible," said Herrmann.