St. Charles North Teachers and Staff Receive COVID-19 Vaccinations
On Feb. 9-11, Kane County teachers received the first dose of a COVID-19 vaccination made available by the Kane County Health Department.
An email about vaccine availability was sent to teachers Feb. 3. A link was sent out with time slots to sign up for available in the morning through the evening. 
"I was done in less than two or three minutes," said Grant Jacobsen, social studies teacher. After teachers chose their slot, they got a confirmation email.
"I was ready for the website to crash because of the traffic, and none of that happened," said Jacob Burlingame, English teacher. It did not cost anything for teachers to sign up. 
Teachers were encouraged to choose time slots during off periods or after school so no time would be taken away from interacting with students.
Vaccinations were administered at the Kane County Fairgrounds. Traffic was directed to the building where vaccinations were administered. Participants then provided paperwork and their school ID and were directed to the vaccination station.
"The hardest part was making sure I had all of my paperwork," said Burlingame. 
The process overall took approximately 20 minutes. After the vaccination itself, participants waited for 15 minutes to monitor for adverse reactions.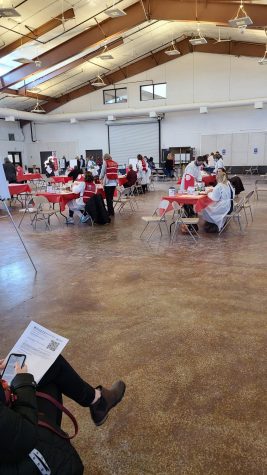 The vaccine was made available for all educators under phase 1B of the Illinois Mass Vaccination Planning Guide. All teachers in the county were given the same opportunity at the same time.
The vaccinations were distributed through Kane County, meaning more people were being vaccinated at the Fairgrounds than D303 teachers.
It was "teachers from other schools in Kane County as well," said Amy Boynton, school nurse.
D303 educators were given vaccinations regardless of place of residence.
"I actually live in Cook County but I signed up through the school district," said Stephen Haftl, business education teacher.
Vaccine administration is being done by the Medical Reserve Corps, a national medical network. It is also being done through the Kane County Health Department. Many of those immunizing are volunteers, including some D303 nurses.
Teachers received the first dose of the Moderna vaccine, meaning a second dose will be given 28 days later. After the second dose, the vaccine takes one to two weeks to reach full effectiveness. 
Despite the vaccinations, safety measures still need to be followed until it is determined that protocols can be eased.
"That is in the back of my mind. Now that the vaccines are out, we've got this false sense of security," said Haftl, emphasizing the importance of continuing to follow guidelines.
"Even though I might hopefully have a level of immunity, I don't want to be a carrier," said Jacobsen. 
Until they determine that sufficient levels of vaccination have been reached, the CDC recommends everyone continue the effort to stop the spread.
"Keep washing your hands and stay socially distanced and masked-up. Let's do it!" said Haftl.