How TikTok Has Changed the Music Industry
According to Forbes, TikTok was the most downloaded app of 2020. Last year, TikTok exploded in popularity with 850 million downloads, 89 million in the U.S. alone, which is especially impressive considering Zoom was only downloaded 477 million times with 81 million in the U.S. 
With content so wide-ranging, there's something for everyone on TikTok. Comedy sketches, art content, dance videos, recipes and even skincare and mental health advice can all be found on your own For You Page (FYP), a feature that serves as an explore page where users can look to see content specifically tailored to their interests.
TikToks can have any sound serve as audio. Users can record their own, draw from the audio of other users, pull from famous comedians or celebrities, record dialogue from a movie or tv show, or most commonly: use music.
A song could be danced to, made fun of, remixed or serve simply as background music. 
Many musicians have achieved fame as a result of the app–Ricky Montgomery, Mothica, Mitski, Doja Cat, Conan Gray, Lil Nas X, Clairo, Mother Mother and Beach Bunny, just to name a few. 
Sarah (Sage) Look, my sibling who is a 21-year-old TikTok creator with 37.5k followers, said they have been a fan of Montgomery for a while, who is best known for his songs "Line Without a Hook" and "Mr. Loverman." 

"I had Ricky Montgomery songs on my playlist when I was in high school and to see him really take off because other people are finally realizing how cool his music just makes me really happy because I've been supporting him since he was like more of an indie artist," said Look.
Montgomery released the aforementioned songs in 2016, but they did not start gaining popularity until they became ubiquitous on TikTok. A similar story can be found with Conan Gray as well. 
"I watched him on YouTube. I remember when he released his first song when I was a junior in high school, and I listened to him, and now he's like super famous," added Look.
Gray has been posting songs since 2017 and before that, he was a YouTuber. In 2020, he released his first album: "Kid Krow."
 "Heather," one of the songs from the album, became so well admired that it's now Gray's most-streamed song on Spotify with over 420 million streams. 
The album itself came out on March 20, 2020, but "Heather" did not pick up traction until much later.
"So, it's weird that it became popular in the summer, just because some person on TikTok decided to use it," said Caitlin Suda, junior and an avid TikTok user.
Probably the most powerful example of TikTok's impact came on Jan. 8, 2021, when 17-year-old Olivia Rodrigo released "drivers license," stylized in all lower case. 
Rodrigo is a singer and actor best known for her role on the Disney+ show "High School Musical: The Musical: The Series." 
In just over a month, the song has garnered over 330 million streams on Spotify. There is a Spotify playlist called "TikTok Songs 2021 TikTok Hits" with over one million saves, and "drivers license" is the fourth song listed.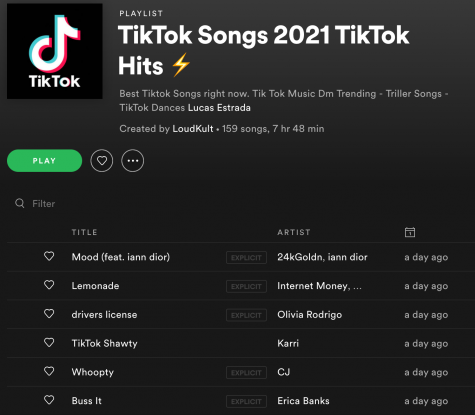 Rodrigo's success can be explained in a number of ways. One is the song's relatability; it's a teenager singing about problems teenagers face.
The themes of young love and yearning found in "drivers license" are also common in other TikTok songs, most notably the ones above.
"Up until now, I haven't really been able to find songs are written for young people by young people, and so I think that it's such a cool thing…I think it shows a lot of teenagers and kids that they're not alone. And that, you know, a lot of people feel like how they feel," said Stella Mollsen, senior and an avid TikTok user.
Rodrigo sings about a break up she experienced, allegedly with her "High School Musical: The Musical: The Series" co-star, Joshua Bassett. 
"I feel like there's a lot of people who could relate to Olivia's situation, you know, kind of just being heartbroken, and seeing someone that you want to move on. And I feel like that song, her song would relate to a lot of people. I feel like that's also like a reason for it to be so successful," said Mollsen.
Another potential reason is the drama surrounding the song.
As stated before, many perceive the song as a breakup anthem detailing how Rodrigo felt about Bassett and his rumored girlfriend, Sabrina Carpenter. 
With lyrics such as, "And you're probably with that blonde girl / Who always made me doubt / She's so much older than me / She's everything I'm insecure about," it's easy to see why.
After "drivers license," Bassett released a song called, "Lie, Lie, Lie" which he claims has been in production long before Rodrigo's song. Later, Carpenter joined in and released a song called "Skin," a song perceived to be her response to Rodrigo. 
Suda said that this drama interfered with her enjoyment of "drivers license."
"Once there was so much drama surrounding it, the controversy, I didn't like it as much because I don't want to think 'drivers license' and think of like some teenagers feuding. I want to think like that, 'Oh, it's like just like a song that can be applied to anyone instead of like this weird, specific situation.'"
Similar to the books and movies of "Twilight" and "Hunger Games," this drama elicited some to take sides or "teams."
Suda continued, "I think TikTok is probably the reason that it did get so popular because of the controversy and how people were making their drama videos [with] their opinions on it and talking about whose side they're on. If they were team Olivia, team Sabrina, team Josh even. So, I think if it weren't for TikTok, I don't think that song would be so popular because it was a great way for people to voice their opinions on it." 
Suda and Mollsen have added "drivers license" to their playlists.
Look said they hear it enough on TikTok, so they don't have it on any of their playlists. 
However, "I can appreciate the story behind it like of what she tried to do with her music, and I can appreciate that she got famous from it. But it feels like she literally blew up like overnight, like I remember not knowing what 'driver's license' was, and then suddenly with everywhere," said Look.
The song has been utilized by TikTok users in a myriad of ways. 
Mollsen saw people do covers of it and make videos acting along to the lyrics.
Suda noticed a trend where people would be in their pajamas and then the beat would drop, and they'd be all dressed up. 
Look said they saw it used as background music to show people falling in love.
"So I feel like it's just impacted TikTok because a lot of the content suddenly shifted to be stuff that would fit the song. It was cute," said Look.
Rodrigo's story is just an example of what can happen when a song blows up on TikTok.
The relationship between TikTok and the music industry is one we are watching form in real-time.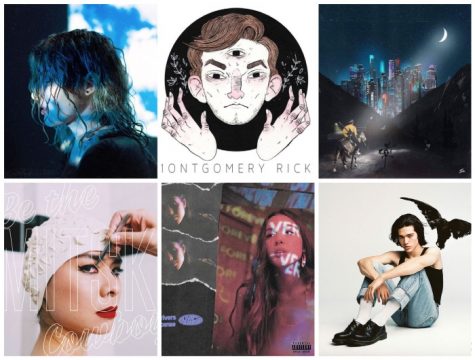 "If you go on Spotify, it shows that the most popular songs on TikTok also happened to be the songs that are like trending in the United States and globally. So I don't know if it's a chicken and the egg situation like what impacts what, but I definitely think that they're related. And I think TikTok's only going to be gaining users, and I think as the app gains more popularity, it will have even more influence on what songs are most popular," said Suda.
Suda said that this shift will be negative, in terms of the top charts.
 "[This relationship] won't really promote musical risks and maybe more unknown artists. I've seen that help the careers of artists that are starting out, but I don't think it will ever get them to the charts. I think it will keep on prioritizing, like well-known artists and their music, but I think it can help people get a little bit of a following and get a start, but I think long term it will be negative."
Mollsen acknowledged the possible positives of this relationship.
"I think it's a really good way to reach and a lot of times relate to younger people because, you know, once a song blows up and people start using it and whatever backgrounds with painting videos, or they make like a dance to it, you know, and that has the potential to reach so many people," said Mollsen. 
She continued, "But, I feel like these take up such a wide, huge platform, and people all over the world are on TikTok. If you're an artist, and you need to promote a song, TikTok will definitely be one of the first places to go to promote your song or your album or whatever it is."
What Mollsen is talking about has some precedent to it. 
To promote their new song, singer Frances Forever made up a dance to their song called "Space Girl," and the dance blew up, resulting in an app-wide trend. The song now has over 25 million streams on Spotify.
Look said that they believe there is a formula for a successful TikTok song, describing it as "equal parts catchy and meme-able."
"It needs to have like a drop somewhere in the song, like some sort of beat drop or shift, so people can do transitions to it, as well. It needs to be catchy, but also like it has that dramatic flair to it that a lot of TikTok songs, I feel like, have in they're kind of self-aware of what they're going to be," said Look.
Look said that they think artists will start to realize this formula and take advantage of it.
"I feel like artists are going to start making songs for TikTok in order to be successful on TikTok. Because we've seen it over and over again: independent artists like Mothica becoming popular, who aren't signed, even Ricky Montgomery who was assigned to anyone becoming instantly popular," said Look.
No matter what possible outcome may occur, one thing is for certain: TikTok has immense power and influence.
"I feel like [independent artists getting noticed is] definitely a positive thing. Because it just shows the music industry and it shows everyone that you don't necessarily need a lot of things to get started with a career in music. You don't need to necessarily be signed with a label in order to be successful. You don't need to be Taylor Swift to be successful, clearly. We're kind of moving away from that actually. Just nobodies are becoming somebodies in one fell swoop," said Look.
TikTok exploded in popularity during 2020 in part due to the pandemic and people's newfound free time which needed to be filled. Due to this large user base, there's no telling who will be the next artist to get the recognition they deserve. 
Only time will tell.