Winter Athletes Adjust To An Irregular Season
Just as winter sports were beginning in November, their seasons were put on hold due to rising COVID-19 cases. This left athletes with a big hole in their schedule.
"We had tryouts November 20. And then it was paused," said senior Abby Srocki, varsity cheerleader.
The pause meant that teams weren't allowed to compete or practice. Instead, coaches and athletes alike had to get crafty with this break in their season.
"Our coaches assigned us, usually, daily workouts to do and then we had to send pictures," said Srocki. "She also signed us up for like a virtual jump class to work on our jumps and just help [us] get stronger."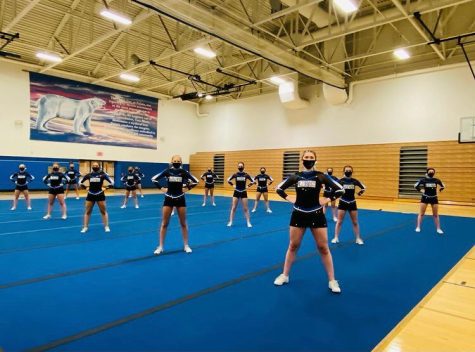 Other athletes filled this time by practicing on their own when possible and devising strategies for when the season resumed.
"We were just talking about what we were going to do and how we have to take advantage of the short season we have," said junior Max Love, varsity boys basketball player.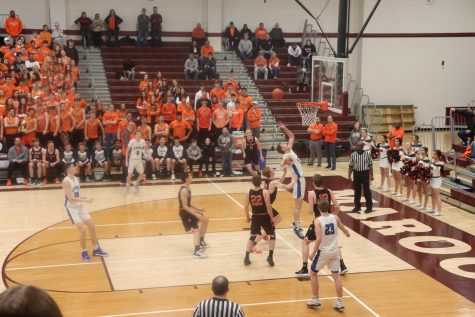 Even though winter sports are back in full swing, not everything is back to normal as many COVID-19 procedures have been put in place to ensure a safe environment. 
"One of the biggest things that we do is stunting, but with COVID, we're not allowed to stunt," said Srocki.
Stunting consists of lifting a teammate up while they perform tricks in the air and therefore relies on close contact to be properly performed.
"This year, it's a lot of tumbling, and a lot of jumps… so it's definitely a lot different," said Srocki. 
However, sports like bowling haven't had to alter as much of their usual routine.
"Since we're part of the low-risk sports, really, all it is, is that we just have our own equipment…  and we all wear masks every time we bowl," said senior Ronnie Gorka, varsity boys bowler.
Regardless of the changes, being able to play provides a sense of normalcy for all.
"It's different, but it's worth it if we get to play," said Love.
"We're all working hard… and just [cherishing] the short amount of time we had," said Gorka.