Teams Adapt to Less Practice Time and a Shortened Season
Because of the COVID-19 pandemic, sports practices have looked a little different. IHSA decided to have four sports seasons this school year instead of its normal three, adding on a summer season. They also have rearranged when sports have their season. 
With the new schedule, though, comes the challenge of trying to schedule five different sports that are running in the winter season that all need to use the gym.
Sports that are in season are first to get time in the gym. Contact days also play a part in who gets to use the gym.
"We have prioritized in-season sports first. We've then moved on to Contact Day sports and simply said when there's a crossover we've prioritized the sports that have been in season the longest," said Daniel Dolney, Athletic Director.
Some sports have had to deal with shorter practice times than what they are used to as more sports have been added to the winter season.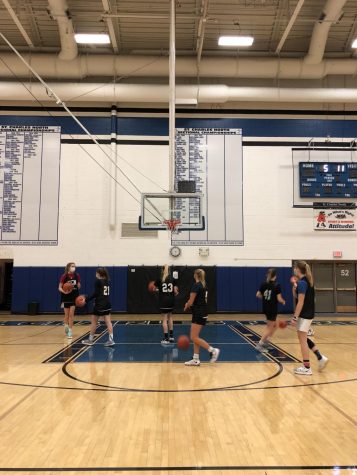 "As the season has gone forward, our practices have been much shorter, and there's even days where we don't practice because there isn't space," said Michael Smith, varsity badminton coach.
"Some of our practice times have been cut short because of other sports," said senior Kristine Puckett, varsity badminton player.
Some teams have found ways to practice outside of North to increase the amount of practice time they have. The girls basketball team has been able to use an off-site facility to practice.
"Our practice time has been a little limited [at North], but we've been able to go off site, so we haven't lost any practice time," said Michael Tomczak, girls varsity basketball coach.
Winter sports have also had a shortened season, so teams have been trying to cram in as many practices and games as they can.
"Our season is typically three months long, and this year it was five weeks long. So we had to put as many games as we could into about four and a half weeks," said Tomczak.
This has also caused more sports wanting to use the gym at the same time which can lead to shorter practices or, on some days, no practices at all.
"With the shortened season, there's more sports being jammed into a schedule, so we got a lot less gym time at North," said senior Linnea Larson, varsity basketball player.
However, teams agree they are glad they have been given a season, and they are able to play this year.
"I think the athletics department did a really great job this year of working with all the teams and with COVID-19 to give us a season," said Rachel Benzing, dance coach.