St. Charles North Boasts Six National Merit Finalists
Seniors Brett Barnes, Ryan Forester, Nathan Hanselman, Grace Lucchesi, Anatasia Smith-Becker and Riley Trendler were all awarded the honor of being named National Merit Scholarship finalists this month. They were notified of their achievement via letter.
John Peters, Assistant Principal of College and Career Readiness, said there were 16,000 semi-finalists nationwide this year. They were picked from a pool of over 1.5 million students in 21,000 high schools who took the test.
Of these 16,000, over 15,000 were picked to advance to the finalist stage, according to National Merit Scholarship Corporation News .
Having six finalists is unusual for North. The number of finalists is especially impressive considering North didn't have any semi-finalists last year. 
"We usually have maybe, I'd say, one to five finalists, so six is kind of on the high end," said Peters.
This award directly correlates to their score on the September 2019 PSAT NMSQT, meaning the National Merit Scholarship Qualifying test. 
"You take the PSAT junior year, and if you score high enough, you get informed a year later, so September of senior year, and they will tell the school that you qualified as a semifinalist," said Smith-Becker, who got a 1490 on her junior year PSAT.
The award is rooted in the PSAT score, but there is not a precise score needed to qualify.
Rather, Peters said that score–referred to as the selection index–is calculated using a formula determined by the National Merit Scholarship Corporation. 
According to the PSAT National Merit FAQ, the formula is the sum of student's Reading, Writing and Language and Math Test Scores multiplied by two. 
"Later in the spring is when they start looking at that selection index, and they look at that nationwide. And they determine, at each state, what the selection index cutoff is to become a National Merit semi-finalist," said Peters.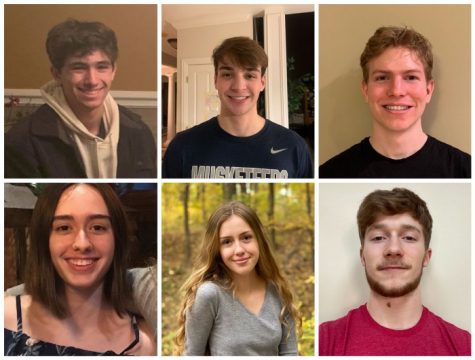 The selection index varies by state.
"It is not the same in every state because [of] the formula. And, for example, the National Merit the selection index to qualify in Illinois was a higher number than in Montana [because] there [are] less students in Montana," said Peters.
Initially, students have the possibility of becoming either a commended student or a semi-finalist. 
Commended students are those who did very well on the test but did not achieve a high enough selection index needed to become a semi-finalist. This year, there were 34,000 commended students. They are in the top 50,000 scorers. 
North had 14 commended students: Andrew Balster, Hayden Dal Degan, Emma Fang, Ajay Girish, Morgan Isacson, Kevin Jun, Zachary McCormick, Cole Miller, Emily Oh, Zeno Ruttens, Paranshu Shah, Pratim Vasireddy and, Mauricio Vazquez. 
In order to become a finalist, they have to fill out an application. Lucchesi, who got a 1440 on her junior year PSAT, said it was "really like college applications."
Semi-finalists listed their classes and what grade they earned, GPA and extracurriculars. They also wrote an essay, and their counselors submitted a letter of recommendation. 
The essay prompt read as follows: "To help the reviewers get to know you, describe an experience you have had, a person who has influenced you, or an obstacle you have overcome. Explain why this is meaningful to you. Use your own words and limit your response to the space provided."
Lucchesi said she wrote about a friend she met online who was from the Netherlands.
"So, I wrote about how it was really interesting to learn about the culture in the Netherlands and to learn the language. And how that basically made me more interested in those things," she said.
Semi-finalists were informed of their achievement in September, and the application was due in October. 
Typically, all of North's semi-finalists go on to be finalists.
"Most of the students that are semi-finalists become finalists. Typically, the ones that don't [become finalists], don't complete the application," said Peters.
This year, all six semifinalists applied for and were awarded finalist status.
Peters said that the CCR office ensures the semi-finalists complete the application as there is a lot of scholarship money on the line.
There are "over 7,600 National Merit scholarships worth more than $30 million. It'll all be awarded this spring, so that's a lot that those kids are able to qualify for," said Peters.
Some of the scholarships are given directly by the National Merit Corporation while others are given by colleges.
"I know you can get some financial aid from individual schools, but those are mostly like public schools. So I applied to some public schools and private schools, so I think I'm gonna go private, and they don't really give you stuff for being a National Merit finalist," said Lucchesi.
Now, the finalists just need to wait until the winners are announced.
"In a few months, I'll figure out if I qualified or got any of the scholarship [money]. But they've already got my application. And so I just have to sort of sit back and see if I get any news or not," said Smith-Becker.
"If I could say anything to the National Merit finalists, I'd say congratulations. This award demonstrates the hard work you've put in over your years in education," said Peters.
Peters said he wanted to remind them that they are so much more than a PSAT test score.
"Remember that the application that they had to fill out, they had to include their activities, their leadership, everything that makes them an individual and makes them whole, beyond just that one test score, and that's what they need to be proud of is everything about them and not just that one thing," said Peters.
This message extends to all students, not just National Merit finalists.
 "I'd say that to every kid that's doing stuff. Don't feel bad if your test score is not there. But if it is there, be happy with it. Be proud of it, but be proud of everything [else] you've done," said Peters.