School Store Adapts to an Online Format
This year many clubs at North have been impacted by COVID-19. One of those clubs is the School Store. 
In a normal school year, the School Store sells spirit wear during school and at events such as Back to School Night and Future Freshman Athletes and Activities Night. They also run the Snack Shack by the North cafeteria which sells snacks, candy and drinks to students throughout the school day.
However, because of COVID-19 they have not been able to operate in the building since last spring. Earlier this school year, the School Store held an outdoor tent sale, and now they are back with a new way to buy spirit wear.
The School Store now has an online sale running until March 26. 
"We haven't been able to have sales in person this year so we had to come up with new ideas with the pandemic to keep selling. We started reaching out to our vendors, and they offered us the chance to do an online sale," said Mike Horn, School Store Adviser.
On the website you can find shirts, athletic shorts, hats, water bottles, umbrellas and decals all for sale. Some items are even being sold in a package.
Once you have ordered spirit wear from the website, the School Store will schedule a time for you to come pick it up. An employee from the store will then deliver it to your car.
The School Store has used multiple platforms to advertise their sale.
"We are on the Polaris Express, in the announcements, and really by word of mouth," said Kyle Lam, junior and School Store manager.
This will be the last online sale for the school year. However, the School Store foresees having another outdoor tent sale later in the spring to try to sell the last of their inventory.
"The plan is, weather permitting, to have at least one more sale, probably the beginning of May, and kind of have like a head-into-summer sale. We want to try to get as many sales in as we can," said Horn.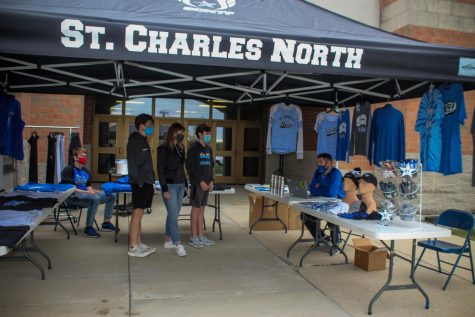 The spirit wear sales have been even more important this year than years past since it has become the store's main source of income. The School Store has not been able to operate the Snack Shack this school year. Almost all of the food the Snack Shack has ordered for the year has been donated, which was a big loss financially for them. 
"We've had to get rid of a majority of our inventory and that's honestly kind of heartbreaking because we spend money on that," said Lam.
Although the Snack Shack's inventory can not be sold, the School Store is looking forward to having another tent sale in the spring and hopefully opening back up full time soon.