Project Dance Spreads Joy While Being Virtual
This year, Team Polaris' annual event Project Dance is virtual, but they are still trying to make this the best Project Dance yet. Every year, the planning committee of the annual event changes the theme.  The official theme this year is Project Dance Pure Joy.
"We felt like everybody needs to bring joy to each other, especially now, because of everything that's going on with COVID and stuff, so we thought of it because it's supposed to make people happy," said Nicole Hannah, sophomore and Project Dance Leader.
The event will take place Friday, April 9 at 7 p.m. via a YouTube Live Premiere. The link will be available prior to the event here.
"Once we get the YouTube link, share with your friends, we're going to share with everyone at school. And you can literally share the link with anyone and anyone can watch it," said Brigid Redmond-Mattucci, senior and Project Dance Leader.
The video will feature segments such as learning the Pure Joy morale dance (the dance that Team Polaris thinks up every year to bring joy to others), dance activities, musical performances and sharing the joy of community members. Students and staff have submitted videos showing what joy looks like and who/what brings them joy. 
They were also able to include more people this year than they thought would be possible. They were able to include videos from North clubs, students, staff, elementary schools and Marklund, a nonprofit organization that serves infants, children, teens and adults with developmental disabilities and special healthcare needs.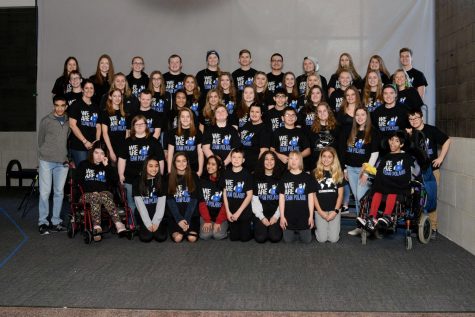 "There's so many different people that come in, and we all kind of just bond over this idea of having fun and dancing and supporting those with special needs in our community," said Redmond-Mattuci.
They also are able to give back to the community through their T-shirt sales and donations. This year, the money they raised is being donated to  Marklund and D303 United, the district's Special Olympics team for first through eighth graders.
"We're really, really thrilled to give back to those two beneficiaries," said Tanis Simoncelli, Project Dance Adviser.
Team Polaris was also able to teach the morale dance to Marklund residents who will appear in the finale of the Pure Joy video.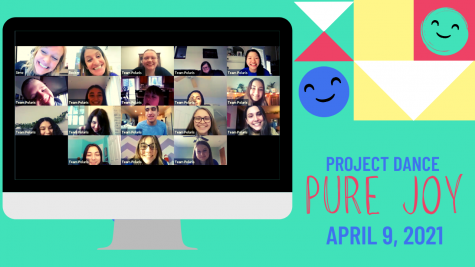 Even though Project Dance is remote, Team Polaris has still felt the sense of togetherness around them. 
"With Project Dance and Team Polaris we are able to really get community involvement and a lot of people are coming from all over to our dance, and also the elementary schools having them feel that sense of community like having something to look forward to when going to North is really great and this year we are got like a ton, a ton of video submissions from everyone," said Danny Surges, junior and Project Dance Leader.
The link to the YouTube Live Premiere can be found here before the event on Friday, April 9 at 7:00 p.m. North community members can also learn the morale dance ahead of time here.