High School Students And Access To COVID-19 Vaccines
On March 22, 2021, the Pfizer vaccine against COVID-19 was approved for use in teens aged 16 and older, the only vaccine to be approved for use in adolescents. Even now, Pfizer is showing compelling evidence that the vaccine is effective in kids aged 12-15 and older, with fewer side effects than found in adults.
The vaccine requires two shots, spaced apart by three weeks, to be fully effective and has been known to cause symptoms such as nausea, headaches, dizziness and fatigue in some people, after it is received for a period of 72 hours or sometimes longer.
So, with these both positive and negative factors, this has left newly eligible 16-and-17-year olds debating whether to receive the vaccine immediately and leaves an even more difficult decision for students who will reach their 16th birthday this year and gain eligibility themselves.
Even so, students are encouraged to get the vaccine. "I think anybody who can get it should get it," said school nurse Frances Lightfine. She also added the side effects should not be of huge concern. 
"Really, there have been very, very, very minimal major issues, and the minor ones are gone within 48 hours at the most. And even if you've got a swollen arm, you put ice on it and get on with your life," said Lightfine.
Additionally, Lightfine provided advice on those still reluctant to receive it because of how quickly the vaccine was developed. 
"The total number of hours put into the study and development of the vaccine by scientists is really the equivalent of five years," said Lightfine
While the vaccine shows more and more promise in studies conducted by Pfizer, there is still concern among some students, especially those who will become eligible in the coming months. 
Freshman Christopher Hawe, who turns 16 in November, said, "I would not consider taking the vaccine because I do not know what's in it and because I do not know how it was created."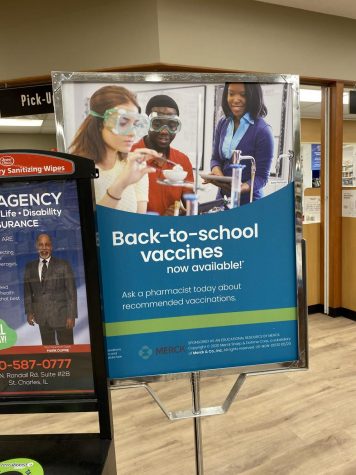 However, he made it clear that it was a personal choice. "I do advise people who want to get the vaccine to get it… they have a right to," said Hawe.
Even so, the effects of COVID-19 on high school students, which have only just begun to alleviate with the return to five-day in-school instruction on April 4, gives many students more cause to want to receive the vaccine. 
"I would like to get the vaccine because I think it is important for people to protect themselves against this virus that is clearly deadly and horrible," said Gwennan Reineking, who turns 16 in December. "I want to protect myself, as well as my family."
Reineking did not express concern over the side effects of the shots. "I know getting a vaccine is a shock to the system, and everyone I know who has gotten the vaccine has recovered and not had issues," Reineking said.
The pros of the vaccine outweigh the cons for freshman Sabreena Kapadia as well, who also turns 16 this December. "I am definitely going to get it when I turn 16," said Kapadia. "I want to be safe, and I just want the world to move forward."
Like Reineking, side effects were not a huge issue to Kapadia. 
"I know there are people who [say they] don't know about the side effects of the vaccine, but I honestly do not think they could do that much harm," Kapadia said. "After all, we have been taking flu vaccines for years now."
For students who are 16 or older and would like to receive one, register online, where the Illinois Department of Public Health provides a guide on how to make a vaccination plan. Both shots are offered at pharmacies including Walgreens, Jewel-Osco, and CVS.