North Ushers in Three New Pilot Clubs
With over 45 clubs at North, there is seemingly something for everyone; however, if something is missing from the repertoire, North allows students to create their own club.
A prospective founder has to run their plan by Melinda Roberts, Assistant Principal of Student Life, in order to get it approved before moving forward.
Despite the less-than-normal school year, students have kept busy: since second semester started, three new pilot clubs have been formed.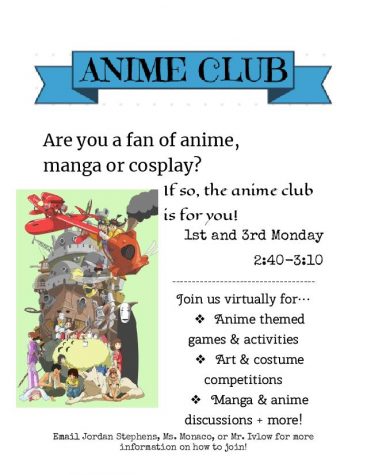 Anime Club
Created in early February, Anime Club is a place where fans of anime, manga or cosplay unite, as their yellow signs around the school proclaim.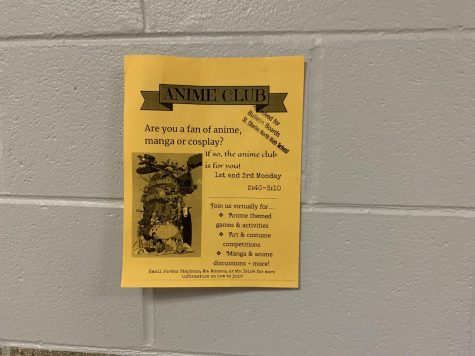 It is not just for anime lovers, however. A student who is curious about learning more is welcome to join.
The club was founded by sophomore Jordan Stephens.
Stephens described the process of making a new club as "a little challenging, not as challenging as I thought it would have been."
"It was overall an easy process, but it definitely took commitment," added Stephens.
Stephens started the club due to their own appreciation of anime.
"I myself really enjoy anime, and I know a lot of other people do. And I really wanted a safe place for people with common interests to come together and be able to spend time together and be able to meet other people that they probably wouldn't think they could be friends with," said Stephens.
Stephens emailed all of their teachers and asked if anybody would be interested to advise a new club. 
Kathleen Monaco and Michael Ivlow responded, and they now serve as the two advisers.
"I'm very grateful that they reached out, and I couldn't imagine having any other teacher as an adviser because they've just helped me so much. And they've been great advisers," said Stephens. 
Now, months later, the club has 21 members and has successfully run six meetings.
They meet twice a month on Mondays from 2:40 to 3:10.
At their virtual meetings, specific activities vary, but some examples include anime show and tell where members gave recommendations to the rest of the club, breakout rooms where members discussed their favorite animes and a game where members were shown a defining aspect of a character and members had to guess who it was. 
Monaco praised the executive board for their ideas.
"They're really creative. The kids who are in charge have come up with really good ideas," said Monaco.
The all-sophomore executive board is composed of Stephens as President, Tori Greco as Vice President, Aidan Cozzi as Chief of Staff and Shailen Birkett as Treasurer.
The club's executive board hopes that next year will be even better.
"I'm definitely looking forward to hopefully things being back to normal next year and being able to be in person and see everyone and have an easier time with meetings," said Stephens.
Monaco shared their aspirations.
"I'm hoping that it will be around next year. I know that a lot of the kids who are involved in our officers are underclassmen, so they're mainly sophomores. So this club will be around. It's just a matter of making sure that there is an interest," said Monaco.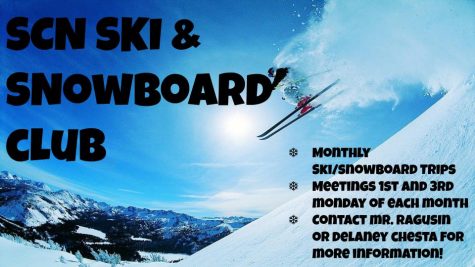 Ski and Snowboard Club
Junior Delaney Chesta had the ambition of starting a Ski and Snowboard Club since she was a freshman, but she finally made that dream a reality.
"Then this year, I finally just took the shot. And I just emailed a few of my favorite teachers, and I just kind of introduced myself again. And I was like, 'hey, if you are interested in skiing, and you have a little bit of extra time to help me out, that'd be great. Or if you can refer me to someone.' And so I was referred to Mr. Ragusin, and then he's really big into skiing. So we got to work on this club together," said Chesta.
Chesta was given Jarrod Ragusin's name when she emailed her sophomore year Honors Chemistry teacher, Peter Gleason. 
"She approached Mr. Gleason originally with this idea. He said, 'I know somebody that has experience with a ski club at a previous school, who loves skiing, and who would probably be willing to, you know, to help you out with this,'" said Ragusin.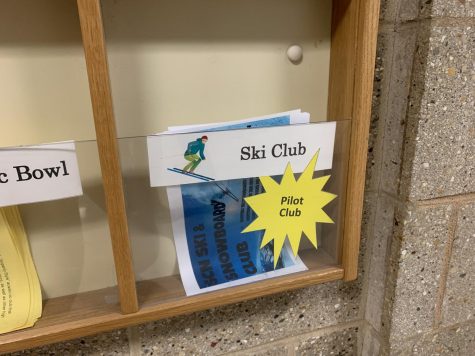 Chesta has enjoyed working with Ragusin.
"I think it's really fun. He's very passionate about everything. We've both brought some fun new ideas to the table. And I think next year, when the club kind of reaches our full potential, I think it's gonna be a really great club," said Chesta. 
Both Chesta and Ragusin have been skiing since they were very young, but that level of experience is not necessary for participation in the club. 
"Whether people have been skiing pretty much their whole life, like me, or snowboarding, or they've literally never put on a pair of skis or snowboard before. We're looking for anyone who just has an interest in it and is willing to learn more about it and experience it if they would like to," said Chesta. 
"We had people rate themselves on a scale of one to ten on experience, just to kind of gauge where people were at. And a couple of people who were at like a level nine…So I think that's pretty cool. And then there were other people who were like two or three," added Chesta. 
They meet virtually on the first and third Monday of each month. They start at 1:00 and go "til we're done," said Ragusin.
Because skiing and snowboarding are expensive sports, the club spends time during meetings trying to put their heads together to figure out ways to fundraise money, so no member has to pay.
Their first major fundraiser event is the sale of metal straws.
Ragusin said, "Skiing and snowboarding are very expensive sports, even if you know you don't have your own equipment, just the lift tickets, and then the transportation costs for us to get to these locations, because they're not in our backyard; we'd have to take a trip to Wisconsin." 
The rationale behind the straws came from the club's dedication to environmental sustainability.
"One of the big, I guess, threats to the sustainability of skiing is our changing climate. And all over the west, they're losing snowfall every year…it's also affecting and shortening the ski season, and we see a little bit of that around here. So for our fundraising this year, we primarily [are] trying to focus on things that promote sustainability, reducing our consumption [and] reducing our waste stream," said Ragusin.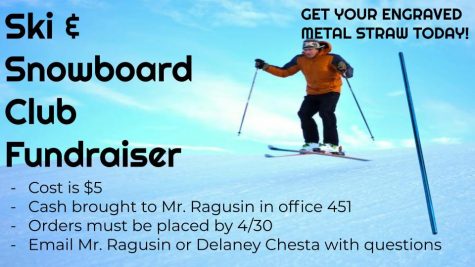 "Hopefully, we can generate some funds that way to help drive the cost down next year, once we do get to take our trips," said Ragusin. 
Since skiing and snowboarding are seasonal sports, the club will spend most of the spring and summertime fundraising and volunteering.
"Over the summer, we're going to try to create some relationships with the Kane County Conservation District, and see if we can help out at some of the sites like LeRoy Oaks and other places that are in St. Charles. We're considering adopting a highway or a street in the area," said Ragusin.
Ski and Snowboarding Club has 18 members, but since they cannot take trips due to COVID-19, the numbers have fluctuated.
"We're really trying to get that number up [to] at least double that and have somewhere in the 30 to 40 range, so when we do go take trips we have a big large group, right, the more the merrier," said Ragusin.
Of the 18 members, four are members of the all-junior executive board. Chesta as President, Emily Fairgrieve as Vice President, Lilly Weisner as Secretary and Megan McGuire as Treasurer. 
Advertising has been particularly tough due to Chesta being a fully remote student.
"To create a club, I needed a list of 15 names. I was reaching out to friends asking if they want to join, then they would find another friend or they would ask their sibling and then I would see if their sibling has a friend. And so it kind of just came off as a little chain from me, but I would like it to expand off of just kind of my friends groups and siblings," said Chesta.
Chesta has high hopes for the club's future.
"This club is not meant to be stressful. It's not supposed to be like a huge commitment. It's like if you make it to the meeting, that's awesome. And then we have these fun opportunities that you can join in on. None of the trips are never going to be required, so that's another thing. But everybody's welcome to go on as many as they would like to," said Chesta.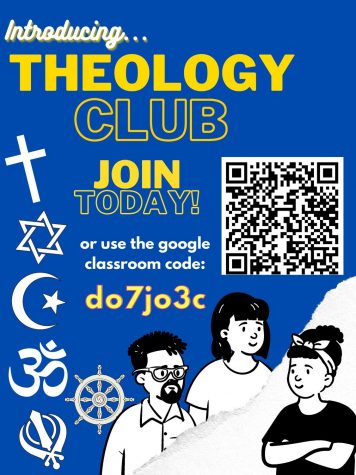 Theology Club
Inspired by what he was learning about in AP World History, freshman Aaryan Pathak created Theology Club, alongside freshman Ayaan Khan, as a way to dig deeper into various religions and how they shape our world.
When Pathak was flipping through the club catalog at the beginning of the year, "I didn't see anything that kind of really caught my eye. So I was like 'might as well do my own thing.'"
"And at the same time, I was having such a struggle, and I was pretty down in my life about the idea of God or the actual truth. I thought to myself, like, 'I can't be the only one.' So I started the process to make my own club," he said.
He sat on the idea for the club for "a whole week or two."
"[Creating a club] was like a two to three week process. And I think it wasn't as bad as I thought it was gonna be,"said Pathak. 
Pathak asked Kelcie Great, his AP World History teacher, to be the adviser, and she agreed.
"Students approached me with the idea that they wanted a place where they could talk openly and share knowledge about various world religions and belief systems, but also about the lack thereof, like, there's agnosticism, and there's atheism," said Great. 
"Because they felt like, especially this year, there wasn't a class where they felt religion was developed enough that they understood more about it," she added.
In other words, although religion is mentioned when explaining conflicts, it's not talked about in extreme detail, and that's something Pathak and Khan wanted to address.
For instance, at their most recent meeting, the club learned about Abrahamic religions: Judaism, Christianity and Islam. They did this to "lay the foundations for all the topics we're going to talk about," Pathak said. 
"And we want to learn more about those, so we could ask questions. There were a lot of people that were like 'I'm unfamiliar with this religion. Can someone expand upon what this means?' And it was a collective sharing," said Great.
The executive board is led by Pathak as President, sophomore Aarav Pathak as Vice President, sophomores Laney Schaefer and Ethan Izumi as Secretaries and sophomore Madison Zabolotzky as Public Relations. 
Great understands that these conversations can be tough, so her role is to moderate the discussions.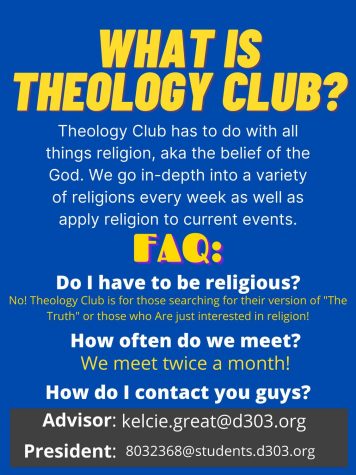 "Religion can be a tough topic to discuss and being a social studies teacher, we've done a lot of work, especially in the school and in my education, [about] how do you facilitate conversations like that, especially between students. High school students haven't studied a plethora of religions, and so, they might only come in with one perspective, or they feel very strongly about one perspective," said Great.
Despite the touchy subject, Great still believes it's important to study.
"Religion ties in just how many aspects of society, and so it's important to understand it, and how it influences over time. And you can probably make a lot of connections," said Great.
The club is open to everyone, not just religious people.
"I don't care really what you believe or what you think the truth is. It's kind of like a safe space for everybody. Even if you're non-religious, and you just want to learn more, we break down social norms, and we kind of clear up stereotypes," said Pathak.  
The club had their first meeting right before spring break, and they now have 24 members.
They've had three meetings, and they meet virtually every other Wednesday at 2:40 with a flexible end time.
"We planned on ending at 3;15, our last meeting, but we were just open and talking and sharing that we ended up staying until like 3:30…It was kind of cool. I was like, 'Yeah, I've got nothing going on. I like these conversations,'" said Great.
Pathak and the executive board has big plans for the future.
"I love to do [activities] like charities or visiting religious places because not a lot of people have experienced other religious like places other than maybe the ones they grew up with. So maybe going to a church or a mosque or someplace that not a lot of people in the club are familiar with; that would be kind of cool."
Great is happy with the progress they've made thus far.
"I'm proud of the fact that this is a very student-led club, and it's my first club at North that I've helped kind of get off the ground and be a part of…it's kind of like this collective hive of minds which is cool," said Great.