Introducing "Theory of Relativity:" Theatre Department Turns to Film
"Theory of Relativity" was the Drama Club's spring musical this year, and people can buy their tickets now and watch it on demand starting on Monday, May 10. 
The musical is an anthology, meaning multiple storylines are interwoven together. 
The musical is based on "physics concepts. But it's a very humanitarian take on it, like how the universe connects us all together. It's very clever. It's super cute…we're all a bunch of students in a college physics class, just trying to get by, and we all kind of share our stories," said Adriana Petrucci, senior who played Julie.
Luke Risch, a senior who played Paul, echoed this.
There are "different characters who all have their own problems and their own dreams and goals. And the show basically is about how all of these characters are very different people but how they all [are] connect[ed] and what connects us as humans," said Risch.
For example, Risch's character, Paul, is allergic to cats, but he is getting married to a girl who is obsessed with cats. Risch described him as "nerdy and kind of awkward."
Petrucci's character, Julie, is the girl Paul wants to marry. Petrucci described her as "a crazy cat lady, but she's super smart, and I had a ton of fun playing her." 
Konnie Sherry, co-director with her husband Bill Sherry, reflects on the impactful message of the show.
"It looks like it's a compilation of songs. When you see the whole thing, it turns out to be a story about how human beings interconnect in the universe, and how important it is for the connections that humanity has [to continue]," said Sherry.
Unlike the previous two productions that were streamed live, North brought in a team of people to film the musical as they performed on the auditorium stage on April 24 and 25, and a company called Golden Studios will edit the production in time for the release date.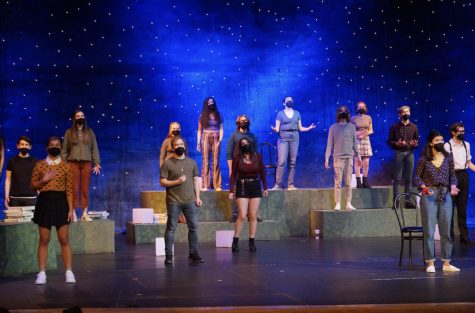 Filming was done over two days–Saturday and Sunday. The first day, the show was run from top to bottom with a small audience of the cast member's parents, and they also recorded some individual musical numbers. The next day, more individual and close up shots were filmed. 
Joe Pietrie, Tech Crew adviser and Auditorium Manager, explained the rationale behind filming the musical. 
"Musicals are different than plays in the aspect of, there's more components to it. There's adding the orchestra, the live orchestra, which was a four piece combo for us. There's the vocal tracks versus the choreography versus the stories. What was the best way to represent all the work that the students had done? What was the best way to present that and represent that? And we went with the record [it], edit it, mix it, distribute it," said Pietrie. 
Rehearsals started virtually via Zoom but then moved to be in person. 
"But eventually, for choreography and such, we started meeting at school with masks and socially distanced, but we just started out running the dance numbers, but then when the restriction kind of lifted, we started rehearsing more in person. And after a while, we just always rehearse at school, pretty much every weekday," said Risch. 
After school, the students would typically meet with Michael Molloy, choir director, to go over the music for an hour, and "after a few hours, [we] would go back, and then we would rehearse with Bill and Konnie the different dance numbers and the different monologues, and that I think that would be usually two or three hours," said Risch.
The in-person aspects of the rehearsals had to be adapted to fit within COVID-19 guidelines.
Rehearsals were modified to fit within regulations such as "social distancing [and] masking because the protocol says for there only to be 30 minutes of singing in any room at a time. We would have to move rooms in the middle of a rehearsal, or we would have to take breaks in the middle of rehearsals to allow the air exchange to happen," said Molloy. 
Last year, due to shutdowns, the musical "Into The Woods" was canceled, so "Theory of Relativity" was the first musical North has put on in two years. 
Being back on stage took some adjusting.
"I think the fact that it's been like a year since I've been able to do that was like a really weird feeling, but it's almost kind of like riding a bike where I just kind of got used to it. I got used to the feeling after a while. It was crazy," said Risch. 
Students and staff were very grateful for the opportunity to perform on stage for the last show of the year.
"It was really emotional. It was so cool. And I felt like everybody appreciated it more because we've had a whole year without it. So it was like really a surreal moment that we all got to finally be together and do this show together," said Cami Jones, a junior who played Mira.
Joe Chapman, senior and tech crew member who operated the spotlights, agreed. 
"It almost made things feel like you were completely back to normal. It was definitely nice. Because we got that audience feedback and everything, they would laugh; they would clap. I feel like it definitely brought even more energy, and just honed in on this feeling for the show," said Chapman. 
On Saturday, April 24, students could invite two family members to come and watch them perform, which meant a lot to them.
"That was really nice because that was something that I didn't know if I would get one last time, especially in a larger role as a senior," said Petrucci.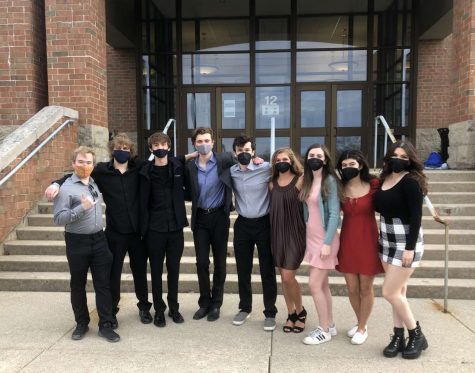 The Class of 2021 has impacted the theatre department tremendously.
"Oh, man, this senior class has definitely been the one that I've been closest with overall," said Jones. "And they really have made this–all my experiences and theater and in choir and everything–so, so much more enjoyable. Because they're always so welcoming, and they're so nice. And their talents, man, it's out of this world. They're incredible. I love them all so much, and I wish them the best of luck beyond high school."
Petrucci described the seniors in the cast as her "best friends in the entire world."
Reed Hickerson, a senior who played Ryan, echoed this sentiment.
"It's been really crazy to grow with them since freshman year. I remember during the final performance, I just kept thinking about our freshman year. The musical was 'Shrek.' And we were all ensemble members, like different feature roles and stuff. And [so] it's just been really amazing to grow with them."
Ryan Colton, theatre adviser, leaves the seniors with some final advice. 
"Seniors, from here on out, should continue to live their life with that resilience that they've shown this year. Take this crazy year that we've all had to deal with, and use it to be more of a positive force in your life that you survived this year. You made it through school, you did the best job you could this year, and to continue that resilience throughout the rest of your life."