Unraveling the Logistics of a Third Party's Sale of North Merchandise
If you have ever wandered into a store such as Target, Walgreens or Jewel-Osco around here, there's a probable chance you encountered merchandise for North, and, depending on where the store is, other high schools. 
Daniel Dolney, Athletic Director, explains his theory as to why stores do this.
"When you're walking through Target or something like that, [people] like seeing their local high schools in there. I think it shows that connection that the store may have to that part of the community," said Dolney.
Alan Anderson, store director of the Jewel in Elgin, agrees.
"Our slogan for Jewel-Osco, as a company, is 'locally grown at your local Jewel.' …Making sure that merchandise is available for local schools to get their [merchandise], that's where it's keeping it local in your community," said Anderson.
However, stores frequently do not consult North when making the products, despite North preferring that they do. 
"Typically if a store is going to be selling merchandise that has a North emblem or our mascot, the star configuration that we have, they do go through the school, just to say that they're using our information. The point of that is that if they're making personal gain, then it would be nice for us to know," said Audra Christenson, Principal. 
Because, in Christenson's words, "more often than not, they don't" go through that process, the stores have to change the design to avoid a possible copyright issue.
"They're putting 'North' [or] they're putting a star that's of their choosing on something and selling it," said Dolney.
This approach can sometimes appeal to shoppers.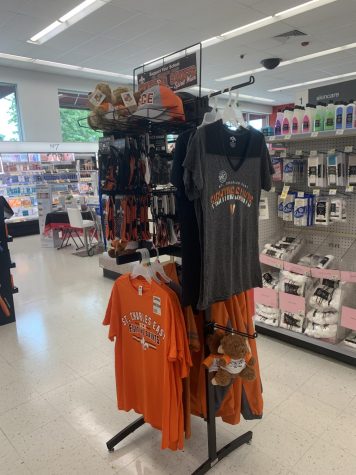 "Quite honestly, sometimes people think that's unique because it's a little different than what they may get in a school store, or from a team or music [program] or department," said Dolney.
North does not profit from the sale of this merchandise. The money goes to the corporation itself and to the third party who designed and produced it.
If the merchandise was bought directly from North's school store, however, all proceeds go to North "to fund the school and students," said Christenson.
This is why North prefers stores approach them about selling the products.
"One of the things that we promote is that if there's going to be a gain, that our students are the ones who have the gain," said Christenson. 
The practice of third party stores selling merchandise for local high schools has been around for a while.
Rebecca Rubin, service and engagement team leader for the South Elgin Target, has worked there for three years, and she has seen North merchandise being sold since she started. Anderson said Jewel has been selling this merchandise for about eight to ten years.
Target gets its merchandise from a third party, the same one that sends them the rest of their products, and Jewel works with a company called Ohiopyle who designs it.
North's merchandise is made by North Stars for North Stars.
"For our merchandise at the school store, that's designed by our students; all of the items…And then if it's through athletics or clubs, sometimes it's designed by our students, sometimes it's designed by our coach or sometimes it's in collaboration with the actual service provider," said Christenson.
North Merchandise can be purchased in the school store located in the cafeteria. To combat the limited access to the school store, several tent sales and online sales were held this year–keep an eye out for announcements in the fall.
The Stargazer reached out to Walgreens for a comment but received no response.