Spectators Are Back to Cheer on Fall Sports
Fall sports have begun with much excitement among athletes and coaches as relaxed COVID-19 guidelines now allow for spectators at events. However, some procedures remain in place to keep everyone safe. 
The current fall season sports are football, girls swim and dive, girls volleyball, boys and girls cross country, boys and girls golf, girls tennis and boys soccer. Because of IHSA guidelines as a result of COVID-19, football, boys soccer and girls volleyball were moved to different seasons last school year. 
For example, boys soccer was played during the spring season last year, but now is back to being in the fall. 
"We are getting back to a spot where we're doing some of our normal activities: hosting tournaments and going to some tournaments that we're part of that we weren't able to do last season, actually playing in the fall rather than the spring,"  said Eric Willson, head boys varsity soccer coach. 
Because a fourth season was added to the 2020-2021 year, each season had to be slightly shorter and practice space/time was sometimes limited. This year, the seasons are back to their regular length.  
"Last year, we had three games a week. So we had game, practice, game, practice pretty much every day, which definitely tired out everybody on the team. And this year, we've got not as many games a week. So you've got more time to rest and practice," said senior Isaac Vandesampel, varsity soccer player.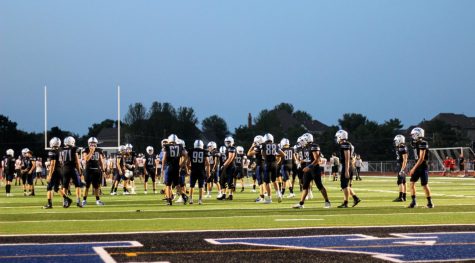 Not only are all of the fall sports back to the regular season and timeline, but they are also all allowed to have a state tournament/post-season. This was something that differed between sports last year, although most did not have a state tournament to work towards. 
This season, state tournaments are giving teams an end goal to aim for again. Many teams are very optimistic about their season.
"I would say we have really high hopes– we would love to make a state-run. I think that it's very possible," said Lindsey Hawkins, head girls varsity volleyball coach. 
Despite many aspects of fall sports going back to normal, some COVID-19 guidelines remain to keep players and coaches healthy. 
"Anytime we are indoors–team meetings, classroom sessions–we wear the mask. We're fortunate that outside is where we spend most of our time and the boys are able to play the game without masks," said Willson. 
Masks are only required when indoors, so sports that practice or play outside do not need to wear masks when outside. But anytime that a team is inside–for team meetings, indoor weight training, or in locker rooms–masks should be worn. And for indoor sports such as girls volleyball, masks are worn all the time, including during games and practices. Contact tracing is still a requirement if an athlete or coach tests positive for COVID-19. 
The most noticeable change for fall sports is the return of spectators to the games. The COVID-19 masking requirements for athletes are the same for spectators. Athletes notice that having fans back changes their mindset and their experience.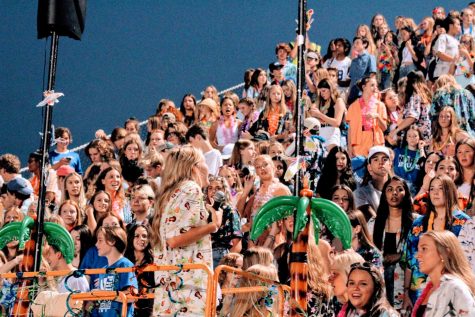 "The gym coming back to normal, like the student section, all the parents and families just being able to come and watch everyone, I think, brings a kind of energy to our games, and it pushes us further to do our best. And that's just something that we're all really looking forward to," said senior Maddy Hyde, girls varsity volleyball player. 
Coaches can attest to the energy and excitement that spectators can add to a game. 
"Volleyball is a game of momentum. And so at any given point in time, somebody is going to make a mistake, and the ball is going to drop to the floor, and all play just kind of ceases. And when you can get a big momentum swing, that can totally change the game for you," said Hawkins. "So having the crowd on your side can really feed into how you're feeling about the game and how you respond." 
North football games consistently attract the largest student section out of all the fall sports and having those fans back at the games this year is very significant for the team.  
"I think that the '12th man', we call it, with the student sections are a game-changer. It gets the guys fired up and ready to play, and I think it intimidates the other team. And I think that [Aug. 27] might have been the most fans and most energy that I've seen, ever, in our stadium. So it was pretty cool," said senior Paolo Gennarelli, varsity football player. 
Athletes all agree that they are looking forward to their seasons and the chance to play for fans once again.
"We really appreciate all of our fans, and we're just really excited to see how we can come out and play for them this year," said Hyde.