Marching Band Rouses the Crowd With Their Return
This year, the marching band enters a time of transition as a new director leads their first time playing in two years.
Kevin Dobbeck was recently hired to replace Brian Wis, who retired last school year. Previously a middle school band teacher, Dobbeck joined North during an unusual time.
"I'm just excited to be able to continue the line of learning and teaching, seeing how [past directors] had such an incredible relationship with their students," said Dobbeck.
Since there was no marching band last year, neither sophomores nor freshmen have experience on the field.
"It's a little wonky," said Kiara Sheetz, senior, "because you have half the band that doesn't know what they're doing. The other half does, and you're trying to find that balance."
As a result of having less experienced members and a new director, students have had to be much more vocal in filling leadership roles.
"Since we have a new director, we, the older kids, kind of have to help out and suggest things," said Sheetz. One idea was "bandana people" or cheer leaders in each section to encourage participation.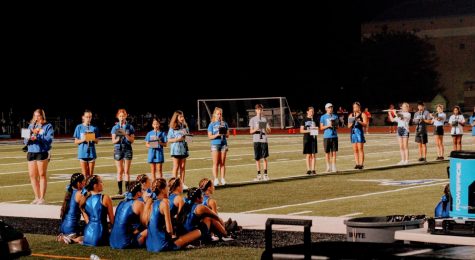 "In marching band, it's very group-oriented, like people can suggest new music," said Aidan Rivera, sophomore.
To stay COVID-safe, some procedures had to be followed. When indoors, specialized masks are worn while playing.
"We do have to use covers for instruments," said Rivera.
However, with current mask rules, students can play outside without masks.
"That's really nice, because when we get out there, it's actually the first time that our kids can play together in the most normal setting," said Dobbeck.
During drills, or movement during performances, students do need to be spaced three feet apart, meaning some drills had to be adjusted to fit guidelines. 
"I can definitely say that we're all farther apart than we were before in the years past," said Sheetz.
An additional challenge was that summer practice time was lost due to weather events. 
"We had a tornado. We had a power outage. We had torrential rain. So that put us behind schedule," said Dobbeck.
Around half of scheduled practice time was lost.
Despite the challenges, the marching band debuted to enthusiastic applause at the first home football game on Friday, Aug. 27.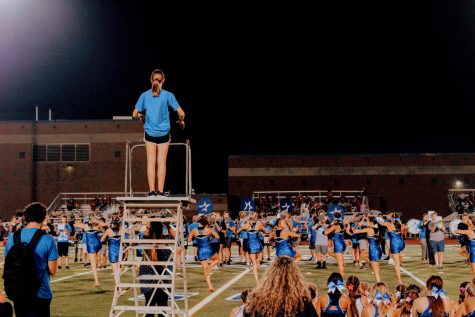 "When the band marched onto the field, the student section…went crazy for them," said Dobbeck. 
The energy brought by the band extended beyond the stands as well.
"It just made everybody more excited to be there. I noticed that when we were playing certain songs, the football players were even dancing along," said Sheetz.
The marching band looks forward to performing at future home games during pre-games, anthems and half times.
"We're there to be supportive of the school, the community and our team, and all three of those things are really important to us," said Dobbeck.