Staff Editorial: The Verdict on Vandalism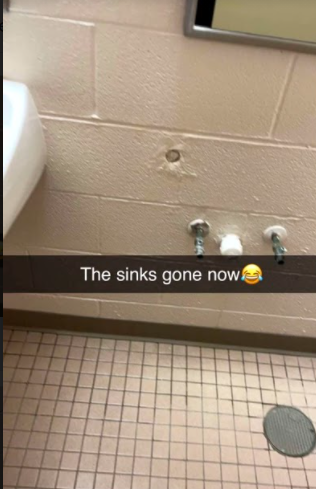 A missing sink. An internet platform. Some rowdy teens. Bathroom stall walls mysteriously disappear. Whether among adults or teens, the rumors spread regardless.
Just last week, North students began to vandalize the bathrooms. Soap dispensers and mirrors, among other things, were broken or stolen. A rumor spread that a sink from one of the bathrooms in the main foyer was stolen, but that has since been proven false. 
To state it simply, we are very disappointed by the actions of some students at North who decided to vandalize and steal objects from the bathrooms on the pretense of following a TikTok trend. 
Following internet trends is not something that is new for teens. Dangerous trends have circulated around on social media before, such as the cinnamon challenge (in which a participant would attempt to eat a spoonful of ground cinnamon) in 2012. These trends have such a negative influence on the community and the individual, yet they return time and time again. 
Students need to realize that their actions have consequences and that following a trend that encourages committing a crime is not a smart decision.
Although internet trends are nothing new, we have noticed that since COVID-19, people, especially teens, seem to have forgotten how to act in public. Everyone has been cooped up for a long time, and it is understandable that some re-adjusting is necessary. We believe that the importance of high school has been lost on some students since the last school year was remote/hybrid learning–it has been a long time since all students have been back in the building full time. 
And because it has been such a long time since school has been "normal" with all students in the building, we are especially frustrated by the behavior of the students who chose to vandalize the bathrooms. Despite the challenges, we were all finally able to come back to school, and now we need to deal with bathroom vandals. It sets an unfortunate standard for our return to school this year. 
We want to remind students that their actions have consequences. Especially in high school, as opposed to middle school, the stakes are higher, and the decisions that students make matter more for their own futures and the wellbeing of those around them. What may seem like a silly trend can really be a stain on your permanent academic record.
Already at North, bathrooms have been shut down due to destruction of property. We know that other schools going through the same issue are removing stall doors from the bathrooms, which is not something that we want to see happen here. Students are already restricted in their ability to exercise this basic human right, and the idiocy of a few may ruin bathroom "privileges" entirely.
Furthermore, stealing and destroying items from the bathrooms is diverting limited district funding to replace the stolen and damaged bathrooms. The costs to repair the damaged bathrooms takes away from the budget for classroom supplies and sports, clubs, and activities funding.
We also want to recognize that the custodial staff are being forced to deal with the mess left in the bathrooms. This aftermath is not something that they should have to be cleaning up. It is completely disrespectful that students are damaging the bathrooms without a second thought about who will have to clean up after them. 
Not only does this trend reveal the immaturity of some students here, it also illustrates how susceptible we all are to rumors. The rumor began last Thursday that a whole sink was stolen from the boy's bathroom in the main foyer, and despite this sink being gone for years, people believed it. It spread through the school, and by 8th period that day, it was all anyone could talk about. 
Bathroom vandals are not what we expected for the start of the 2021-2022 school year, yet the influence of social media trends has proven otherwise. We urge students to think about the consequences their actions will have on not only themselves, but on other students, staff and the custodial staff here at North. 
The purpose of the staff editorial is to start a conversation. The editorial topic and stance are discussed and agreed on by all members of the editorial board. While only one editor writes the article and the editorial may not represent each editor's opinion 100%, it does represent an editorial consensus. Again, the purpose is discussion. Let us know what you think through Twitter @SCNNewspaper and email at [email protected].