Varsity Quarterback Ethan Plumb Making History
A new varsity football team has taken to the field this season. The team has a few games under their belt, and a few notable people have begun to rise through the ranks, including the new quarterback.
Ethan Plumb is making North Star history as the first freshman to start at that position.
"In my nine years as the head coach, we've never had a freshman up on the varsity, starting as quarterback. We've had freshmen up with us but playing more of an auxiliary, supporting role, never the person who's playing quarterback,"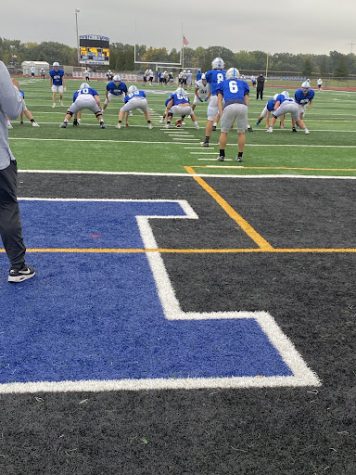 said Rob Pomazak, head football coach.
There is a lot of hype around Plumb and his achievement, and he is also proud of himself.
"I've been trying my best to prepare for this moment 'cause I've been dreaming about this for quite some time now, and just for it to become a reality is something special," said Plumb.
Very rarely does a freshman show that they are capable of being QB, but Plumb proved that it's possible.
"Ethan is just a very mature young man. He came in, really impressed us with his football knowledge, and then on the field, he just excelled. He was able to make his reads really well, he understood the playbook, he spent time preparing and just kind of separated himself on a day-to-day basis." said Pomazak
Plumb's knowledge of the game comes from years of practice.
"I've been playing football since I was five years old," said Plumb. "I love the sport for what it is and what it gives me. So I've been playing for quite some time now, and it's just fun to keep playing it year after year."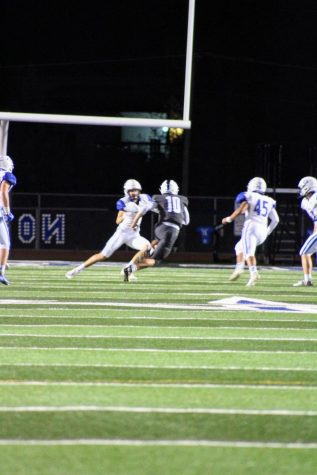 Though his achievement is noteworthy, football isn't nearly as easy as it was back in middle school.
"The games a lot faster, you've gotta make reads quicker, you gotta throw the ball quicker, it's gotta be on time–it's just everything has to be almost to perfection. Here there are very
minimal errors; everything's gotta be on point," said Plumb.
Plumb, Coach Pomazak, and the rest of the team are all excited to get back onto the field for the last few games of the season.
"We have a great opportunity to win the rest of our games and still be in the playoffs. We've had a couple tough losses in the last second, which have been tough, but I'm proud of our kids. They've come back and they're pretty resilient so I feel good about the rest of our season," said Pomazak.
The North Stars (3-3) play Friday, Oct. 8 at 7:30 at St. Charles East (2-4).