Girls Golf Wins Conference; Catie Nekola Advances to State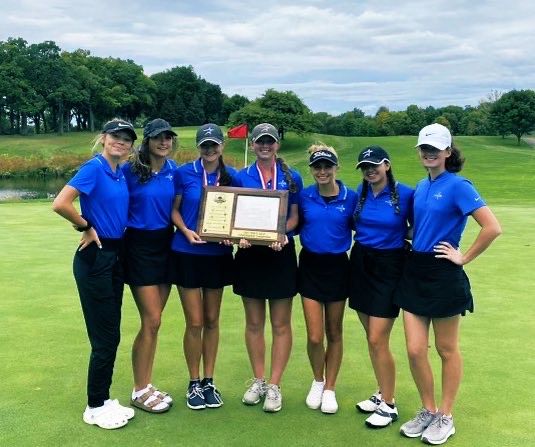 The girls golf team had a successful season this year, winning conference and sending Catie Nekola, senior to state.
The girls golf team has seen more athletes join this year, particularly with new freshmen joining.
"It was really exciting at the start of the year. We had seven new freshmen and a new sophomore join the program. We don't often get that high of a number of rookies showing up," said Steven Dodd, girls varsity golf coach.
The team did well in the season, winning conference and making sectionals. Sectional results went down to a tiebreaker between North and St. Charles East.
"The players found out we had actually tied in the competition, so it went down to the fifth scorer and we were two shots more than them," said Dodd. "So we had literally missed out by one shot because had any player been better by one stroke we would have traveled to state as a team."
The team was narrowly beaten by East and did not qualify for state.
"That was definitely the low point of the season to have the whole team miss going to state by one small shot," said Dodd.
While the rest of the team did not go, Catie Nekola qualified for state as an individual.
"I was a little sad that my team couldn't come with me to state, but it has been my goal to get back to state since freshman year," said Nekola
At state, Nekola was able to break records, shooting a 67.
"Catie Nekola shooting a 67 at state in her second round was absolutely incredible, and it's a record for the school for state and also an IHSA tying-record at state," said Dodd.
Nekola placed 4th at state.
"I'm very happy with how I did at state," said Nekola.
The team faced some logistical hurdles at the start of the year because of COVID-19.
"We lost quite a bit of matches and invites from last year because of COVID so another effect is they weren't as organized this year so we struggled to organize matches against other teams," said Dodd.
Despite some difficulties, the team was able to have a relatively normal season.
"It was a very short season last year and this year to have almost a complete season was great," said Nekola. "It was great for my team too because we all bonded a lot closer this year."