Compass Academy, A New D303 High School, Makes Its Debut
This year D303 debuted a new high school, Compass Academy, centered around personalized learning. Compass Academy is located in the Haines Center, and around 90 students are currently enrolled.
"The idea behind Compass is that the comprehensive high school model, which is what we have in North and East, doesn't always meet the needs of all students," said Brenna Ohlson, Compass Academy counselor.
Compass Academy is developed around competency-based learning. This means that, rather than being given a letter grade, students demonstrate their knowledge of a skill, showing they meet the required understandings of a class.  
"You don't get graded with letter grades; you get graded based on competency, and if you don't reach your competencies, they help you work towards it," said Daniella King, freshman and Compass Academy student. Students can also go above and beyond and exceed competency levels.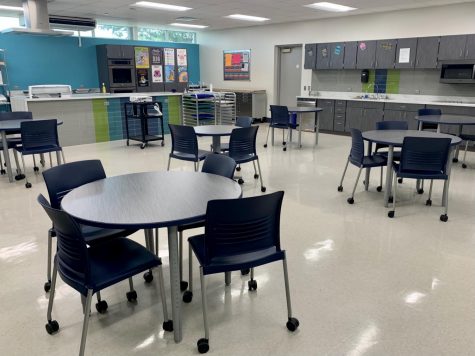 The transcript of a Compass student would reflect the competency-based style. Compass is a member of the Mastery Transcript Consortium, a group of schools using transcripts focused on highlighting student strengths and interests, providing a more well-rounded description of the student than a traditional transcript.
Class size is also a big difference between Compass and other D303 high schools.
 "Classes have a lot fewer students meaning the teacher can focus more on you, and what you're struggling with," said King. An average class at Compass has about 15-17 students each, which is small compared to North.
The Compass Academy schedule is also much different than North and East to grant flexibility to students. The school year is broken up into quarters rather than semesters, and each quarter has three interdisciplinary seminars, each 75 minutes long. Math workshop, a student's online math class, is scheduled in addition to those classes. The total credits would be equivalent to a student at another D303 high school.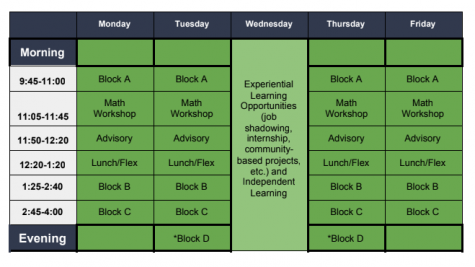 Another unique feature of the Compass Academy schedule is flex and advisory time.
Advisory is a 30-minute block where students meet with the same group of students to hold seminars, get support for post-high school planning, and receive career education.
Flex time is a one-hour period of time given to students right after advisory. This gives time for students to eat their lunch, and time remaining is free time for students.
"It truly can be a time that you disconnect from school stuff, and care for yourself or connect with other students," said Ohlson. It also gives a chance for students to talk to teachers or catch up on schoolwork.
"We have advisory and flex-time so we have more time to get our work done," said King, highlighting a benefit of the schedule. 
Off-campus electives are another optional choice to better fit the wants of the student.  Students have the choice to go to North or East if they would like to take specific electives that aren't offered in Compass. 
"For me, I chose to do two classes at East and then the rest of my classes at Compass," King explained. 
To support the transition to Compass, the Haines building has been recently refurbished, and the Compass campus has been built around promoting student comfort.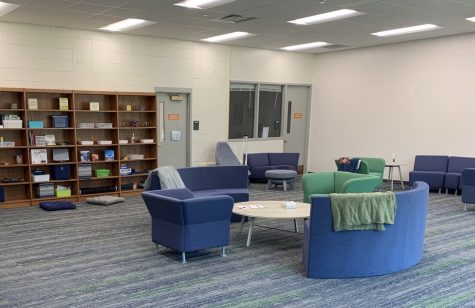 "There's what we call the Wellness Center there, which is an area with some comfy chairs, a lot of windows, quiet, and some sensory tools," said Ohlson. Classrooms also don't have standard desk systems, as some have comfy chairs or desks with adjustable heights.
"It's a very comfortable environment," said King. This environment can help alleviate student stress and provide a better school experience.
Compass is currently working with students to create a school mascot.
"There's a reason they don't have a mascot yet, because we want that to be a student-driven process and procedure," said Ohlson.
Compass already has plans in place for expansion.
"There's another wing that's in the process over the next year or so," said Ohlson. As student enrollment increases, more facilities will be built to accommodate the growth.
Those interested in attending Compass Academy can contact Brenna Ohlson at [email protected].