Live Audiences Return For The Fall Play, "All Because of Agatha"
This year, St. Charles North Theatre is performing the play "All Because of Agatha" on Oct. 28, 29 and 30 at 7:30 p.m., featuring the return of a live audience. Tickets can be purchased online at $5 per student and $7 per adult.
"It's about a couple who move into a house. They realize that there's actually a witch that haunts the place on the same day, same time every year. They have this idea to throw a party when the witch is haunting, so that maybe she'd feel more at home," said Toby Parks, senior playing Mr. Van Buren. Trouble ensues as the witch casts spells to try to eject the tenants.
"I would definitely say it's sort of a drama-comedy," said Ella Weasler, sophomore playing Mrs. Boggs. "You'd think that it's a horror, because it's witches and ghosts and a haunted house, but it's more like a romantic comedy."
Every year, the fall play director chooses the production.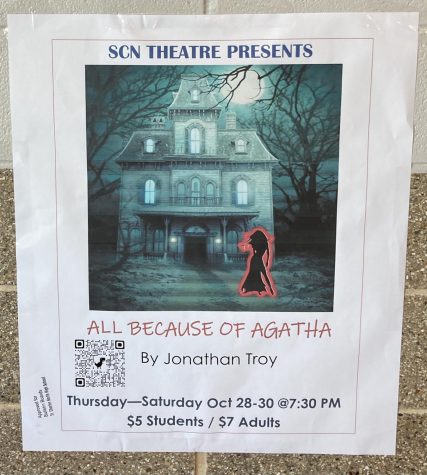 "[Mr. Colton, production assistant] had suggested this. He had read it a couple years ago. And then I read it, and I just thought it was very cute, family friendly, and great to put on our stage," said Natalee Hryniewicz, director. The play also falls on Halloween weekend, adding a festive flare.
This year's fall play will go on mostly as normal but with a few changes because of COVID-19 restrictions.
"We are going to be mic'd, and we are gonna have to wear masks, but we don't have to distance ourselves," said Maya Cassell, freshman. Other than a few dropped kissing scenes, the actors' movement on stage will not be adjusted.
The play also marks the return of a live audience to North Theatre productions.
"There will be seating restrictions making sure that we're still maintaining three feet of social distance," said Hyriewicz. Tape on seats will be used to ensure proper distancing. Audience members will also need to wear masks.
It's been over a year since a performance with a live audience, meaning actors will need to get used to the feel of a live audience again.
"They'll have to figure out when the audience is going to laugh,  and when they need to wait and hold before they say their next line," said Hyriewicz. "But, once they get that out of their system and feel the jive of an audience again, it'll be really great." 
Regardless of the challenges, performers are excited to see the auditorium filled again.
"I'm just really excited to have an audience and actually get some people laughing and clapping," said Parks.