D303 Teachers Take Stand at School Board Meeting
"We are here because we want to not simply lay our complaints at your feet and expect you to fix them. We are here because we are pleading to have a two-way dialogue around these obstacles to student learning," opened Joe Blomquist, President of the St. Charles Education Association (SCEA) at the D303 School Board meeting Monday night.
Earlier in the evening, the Thompson basketball team left the gym as a different group started to form. Decked in "Red for Ed" shirts, over 400 D303 staff members gathered starting at 6:30 to stand up for themselves at the D303 School Board meeting Nov. 8. 
Around 6:45 the educators started walking with flashlights and glowsticks to the Haines Center where the board meeting was taking place at 7:00.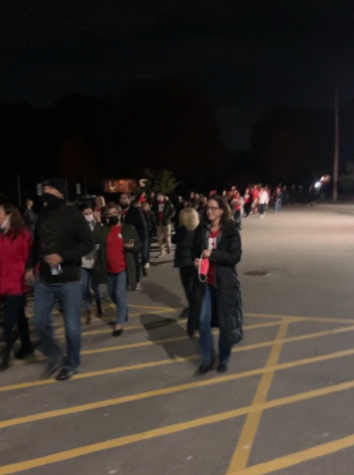 As community members signed up for Citizen Comments inside, staff members gathered outside the windows facing the Board and raised their flashlights and glowsticks high. As some educators inside the building interacted and waved at the educators, other community members ignored them. 
At 7:05 D303 School Board President Jillian Barker called the meeting to order. After a brief Superintendent's Report, Citizen Comments started and educators started to tell the board what they needed.
Many educators stressed how they were burnt out and needed the school board and district administrators to work with them.
"We stand here tonight because we want to be partners with you but that becomes more and more difficult when decisions are pushed down on us, when plates are constantly thrown at us to spin in the air, often without a clear why and with no regard for how to meet these demands while still effectively teaching our kids," said Alice Froemling, representing high school teachers.
Teachers urged the board to include them in the decisions that affect students as they are the ones who are with the students and see how administration decisions affect students.
"We have been experiencing a lack of respect for our expertise and a lack of inclusion in decision-making processes.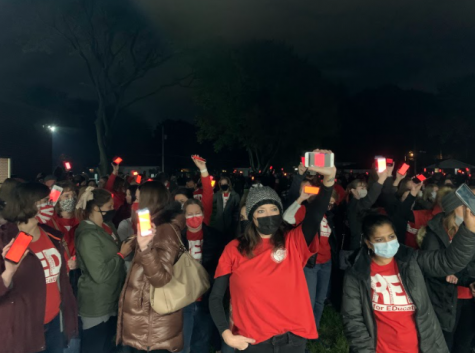 We have the most contact with our students, the most knowledge of our students and the best understanding of what our students need, yet we must follow the top down decisions of those who do not face the daily reality of classroom demands," said Jenny Iwanski, speaking on behalf of elementary school members of the SCEA.
Other speakers stressed the importance of educator voice in both district decisions and teachers' trust in the administration.
"We acknowledge that our voice is only one in the dialogue, but it is an important voice. Ignoring our voice or outright silencing it both erodes our trust in administration and makes it harder to ensure that we have what we need in order to meet student needs," said Amanda Jacys, speaking on behalf of the special education community of educators.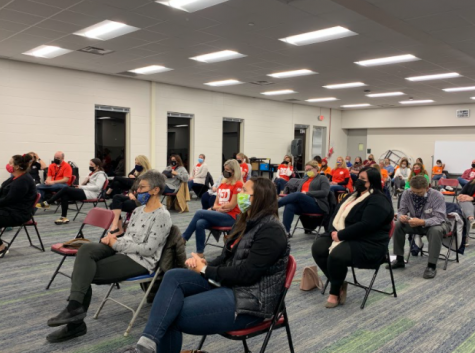 Speakers reminded the board that educators wanted to do the best for students and that their end goal is to make the learning experience better for all.
"We love the students of this district. We want nothing more than to see the children of this district to succeed, help them find their passion and give them the support that they need to be happy and healthy," said Blomquist.
Many teachers are at the breaking point and are considering leaving a profession they love.
"In spite of our strengths as educators, many of us are breaking. We're dusting off our resumes. Your National Boards, your Master's degrees, the teachers your students love: we simply can not spin all of your plates anymore without watching them crash to the ground," said Froemling.
As teachers spoke, educators outside the window cheered and waved red screens in the air, showing support for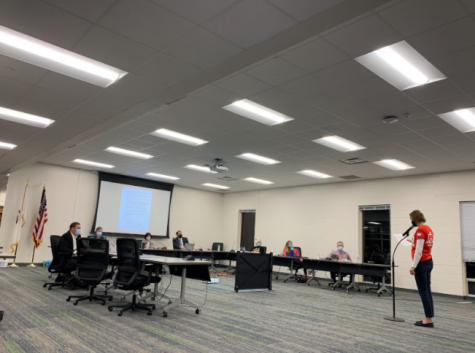 what the teachers were saying while not physically being in the building because of COVID-19 restrictions.
As teachers concluded, they urged the board to listen to their requests. They asked for respect and a dialogue between them and administration.
"Treat them with respect. Treat them like the solution and not like the problem. Let teachers teach," concluded Chrissy Vasilopoulos in her speech, speaking on behalf of middle school educators.