Girls Cross Country Races at State as a Team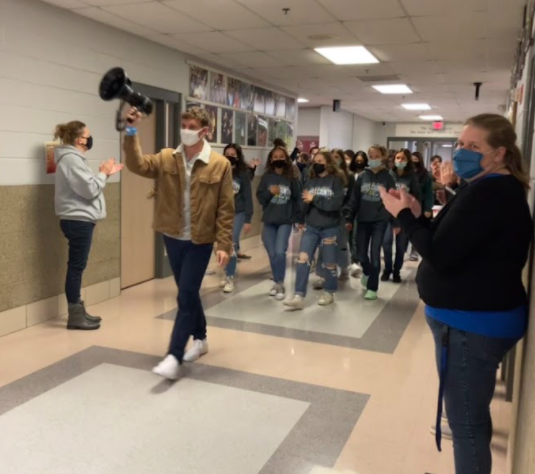 On Saturday, Nov. 6 the North girls varsity cross country team ran at the State Tournament in Peoria and placed 24th out of 28 teams.
The team advanced to state after placing fifth at sectionals on Oct. 30, as the top seven teams from sectionals move on to state. Seven runners were on the team that went to state, along with three alternates. 
North's cross country team ran in the 3A race, which consisted of 232 runners, the largest race at state. The division is determined by the size of the school. The race was three miles long, which is the standard for high school cross country meets in Illinois. 
Girls cross country going to state as a team is significant because they have not qualified as a team since 2013. However, individual runners have qualified for state since then. The team did qualify for state last year, but there wasn't a state tournament due to COVID-19 guidelines at the time. 
Because the cross country state tournament was unable to happen last year, "everyone was excited to just have the opportunity after COVID," said Zoe Ulaszek, sophomore runner who placed 222nd at state. 
The team worked all season to get to state, despite having some setbacks due to sickness mid-season.
"We were all really sick from [Homecoming]. We got hit hard. So that's also why our times were a bit slower this year too," said Rachel Price, senior cross country athlete who placed 145th at state. 
The team recovered and quickly began to prepare for state. 
"We trained very hard. The week before state we were all feeling a little better. So we tapered, so we run like less miles than we've been doing all season," said Bella Dicrosta, senior cross country runner. 
The physical and mental rest before state helped the runners prepare for the race last Saturday. 
"All the girls raced super strong, every one of us. There were no all-staters, but it was a fun time as a team," said Dicrosta, who placed 51st. 
Out of the seven girls on the team who went to state, four were sophomores and one was a freshman, so the team is very young, especially compared to other teams. 
"I am just so proud of them. I know that they have so much to come for them. They are like some of the most hard-working girls I know," said Dicrosta. 
 Older athletes on the team agree that the underclassmen on the team have immense potential for future seasons as well. 
"The future is bright. We only had three seniors this year and one junior on the entire cross country team," said Price. "The rest were sophomores and freshmen. So they've got two, three more years left, and they're gonna do a fantastic job."