Return of Madrigals: A Royally Fun Time for North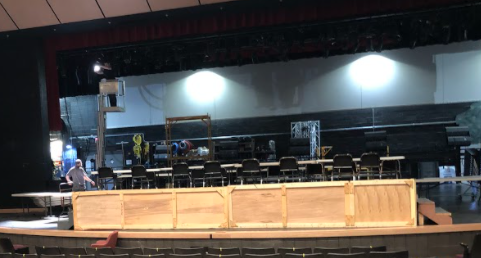 St. Charles North's Madrigal Dinner has officially returned to an in-person format. After eighteen years of performing the annual interactive play, the SCN Madrigal Show was switched to an online production last year due to the COVID-19 pandemic. However, the show is returning to a physical, in-person play for the 2021-22 school year.
Since Madrigals have gone two years without a regular performance, many underclassmen are in the dark on what exactly this show is.
Madrigals is an annual theatrical production where student performers, garbed in medieval clothes, serve a feast and perform and interact with the audience.
According to the show's director, Michael Molloy, the traditional production of the Madrigal takes place in "the beautiful ambience of the neo-gothic Baker Church." However, due to the pandemic the church is unable to host a large guest and cast. Because of this, the show was moved to the SCN auditorium.
While the dinner has been cut out due to pandemic regulations as well, the show itself and interaction with the audience will go on as normal.
The event holds a lot of meaning to the enthusiastic performers. Senior Jordan Keldani found out about Madrigals from Molloy as a freshman. Keldani tried out for the play at the beginning of his sophomore year and has participated ever since. 
"I like the setting, I like the idea. I think it's fun dressing up in the big, over-the-top medieval outfits," said Keldani. 
Madrigals are particularly unique for the interaction that occurs with the audience, as they're treated like a part of the Medieval court the cast portrays themselves in.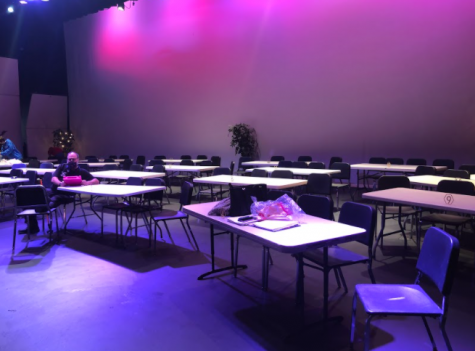 "We're basically imagining like they're a part of this… we'll address the audience, we'll talk to the audience, and there's even a skit too where we'll call people up," said Keldani. There will also be a sing-a-long at the show.
The show brings together multiple music departments for its performances as well. Those participating in drama and choir appear in the royal court, while recorder and string quartets are composed of band and orchestra students, respectively.
It's these unique aspects of the Madrigals show that separates it from traditional performances, such as concerts or theater dramas, where the audience will watch the show but have no actual involvement in the show.
Despite the restrictions the pandemic put in place, both the director and cast are optimistic about the future of Madrigals. 
"It has been challenging for everyone to try and reimagine our show for the second year in a row, but everyone is focused on performing a magical show in the face of these challenges," Molloy said.