Girls Swim Finishes Fifth at State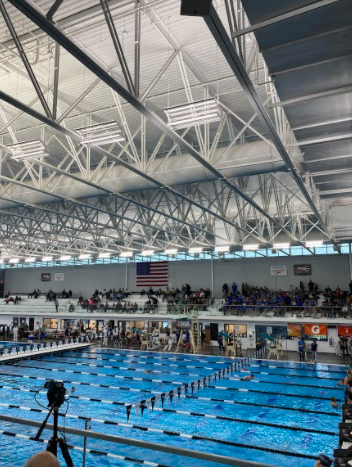 On Nov. 13, girls swim competed in the state finals for the 2021 season in Westmont. The team finished fifth overall out of 43 schools competing.
Eleven girls qualified for the state at the Sectionals meet on Nov. 7 at St. Charles North High School. The girls swim team were also the Sectional Champs as a team.
"They really did a fantastic job of sectionals getting through the meet and handling the pressures of it," said Robert Rooney, girls swim coach.
While fifth place was not what they were hoping for, the team was still proud of what they accomplished.
"I did not perform as well as I would have liked. But definitely for the first time it was a great experience and watching my teammates perform well was really cool too," said junior Enya Linson, varsity swimmer.
North placed fourth in the 200 Yard Medley Relay, sixth in the 200 Yard Freestyle Relay and fourth in the 400 Yard Freestyle Relay. Paige Armstrong placed third in the 100 Yard Backstroke.
The team tried their best against the other teams and were able to have a total of 97 points at the end of the meet with only three points between them and the second place finisher.
"I'm not gonna lie. Our bar was a little bit higher than where it ended up. But you can't control other teams and you can't control the outcome. We really have to just control ourselves," said Rooney.
While most of the varsity team is graduating, the remaining students are looking forward to their season in the coming years.
"As a senior I'm hoping to go and place next year at state," said Linson.
The team will also miss the presence of the seniors next year when they have left the team, but are glad that they had the opportunity to be a team.
"[The team is] an awesome group of kids and my seniors are fantastic young ladies. They're an honor to coach," said Rooney.
Overall, the team is proud of what they accomplished throughout their season and that they managed to go to State even after a challenging season.
"We had a few ups and downs along the way but overall there were 50 teams there so to be in the top five was good," said Linson.