Boys Basketball Season Off To A Strong Start
On Nov. 8, boys basketball began their first full length season after two years. Their current record is 4-3. 
During the 2019-2020 school year, their season was cut short due to COVID-19, and they played a shortened season last year.
This season kicked off with the Rockford-Boylan Thanksgiving Tournament, where varsity went 2-1. The team beat both Peoria Richwoods and Rockford Lutheran which were "two very good wins over two strong programs," according to Tom Poulin, varsity boys basketball head coach. North then played Rockford-Boylan in the championship game, but lost 68-58.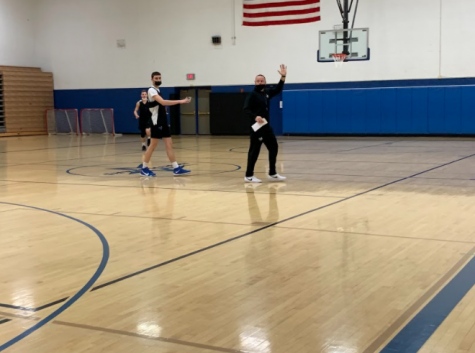 Ethan Marlowe, Justin Hughes and Max Love made the Rockford-Boylan All-Tournament Team, and Marlowe was named the tournament MVP. 
"It was nice to be awarded for our achievements, but I think the more important takeaway was just what we've learned about our team and what we can use to improve," said Hughes. 
The team used the Thanksgiving Tournament as a learning experience about how to improve their game. 
"We need to focus in on our defense, communication and just continue to get better offensively," said Poulin. "But really our main focus needs to be doing things correctly defensively and making it more difficult for people to score on us."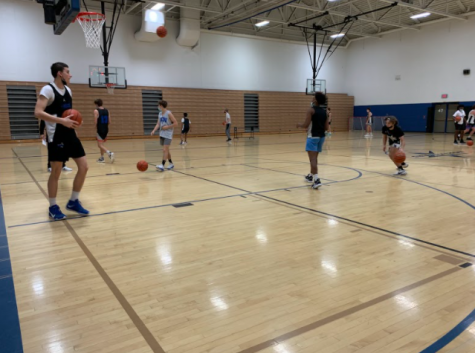 The 2021-2022 season is the first full-length season since the 2018-2019 season. The season two years ago was stopped right before the sectional playoff game due to COVID-19 shutdowns. Last year the season was shortened to only 15 games, and there was no state tournament because of IHSA COVID-19 regulations.  
Two years ago, the team made it to regionals and sectionals and were looking ahead to the state tournament before the season was cut short. 
"That was the most successful team we've had in school history…we had our goal, our sights set on being that history-making team," said Poulin.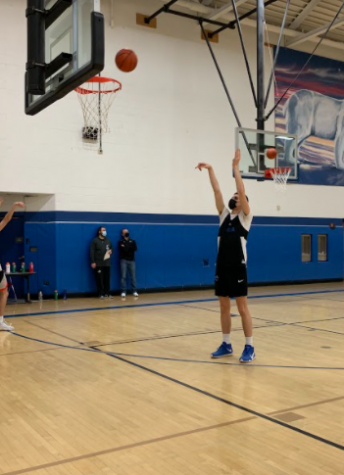 The team finds themselves grateful, being back to a regular season with a state championship to work towards. 
"We still have [the 2019-2020 season] in the back of our minds, and are trying to take advantage while we have these opportunities to play," said Hughes. 
Another major change between this season and last year is the return of large crowds. 
"It's been amazing just to have that atmosphere back again…this year having students sections and just crowds and fans back has been amazing," said Hughes. 
Athletes and coaches have high hopes for the season. 
"This group could be one of the most successful, if not the most successful teams we've had, if we…[make] sure our practices are where they need to be with our focus and intensity," said Poulin.