Wrestling Returns After COVID-19 Setbacks
Competing for the first time in two years, North's wrestling team has been working hard to make this season count. Tucked away in the gym mezzanine, the wrestling team often goes unnoticed, but they are still competing and several athletes are busy making names for themselves.
"This is one of those sports that even if you're not fully into wrestling, some people just use it for conditioning for other sports, which I highly encourage people to do. It's the toughest workout you can do," said Dave Drews, head wrestling coach.
In 2020 the wrestling team had the most students North has ever had on the team at 60 students on the team, but the momentum the team had died with the appearance of COVID-19. Due to COVID-19 restrictions, the wrestling team was not allowed to compete last school year. This year the team is back and competing like normal.
However, the wrestling program has only seen around 20 boys showing up consistently. This makes it hard for the team to win a lot of their competitions because they have to forfeit in some weight categories.
"So as a team in a big team competition we can't win. Although, we did beat one or two teams this season, which says a lot about these guys," said Drews.
However, the team is hopeful that multiple athletes can place at Conference and compete at the state tournament in Champaign from Feb. 17-19.
"I'm hoping to be top three at state if not state champion and also help my teammates become better and get to state," said junior Drew Surges, varsity wrestler.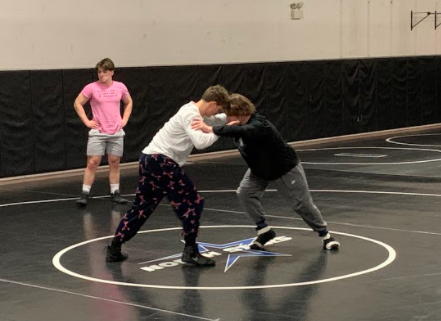 The team has been working together to focus on their strengths and weaknesses and push themselves to their full potential.
"I want to sharpen all the skills that I already have and use them for my senior year," said junior Xavier Neary, varsity wrestler.
Although the team has had some challenges this season, Drews is still happy with what they have accomplished.
"We train with who we can, we work with who we can, and we make progress with who we can practice with," he said.
The wrestling team is already looking towards next year and encourages anyone who is interested in wrestling to try it out, even if it is just recreationally.
"[Students] should join because it's a great opportunity to get up here, meet new people. It's a good sport that takes a lot of toughness," said Surges.