Sara Tenbrock Runs Successful Small Business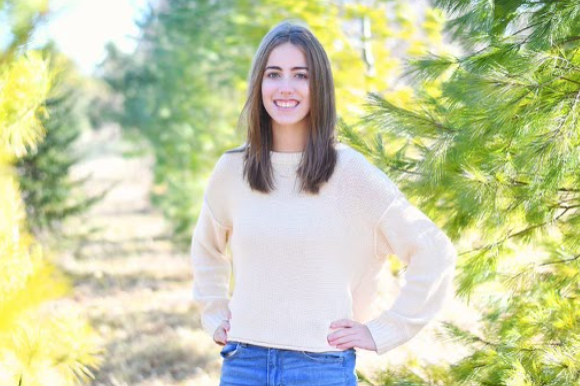 The spring of 2020 affected millions of Americans, and as a result many turned to hobbies to pass the time. Some turned those hobbies into profitable small businesses. Sara Tenbrock, a junior at North, is one of those people. 
"I started my business Sara T. Designs as a way to spread positivity while people were at home. Once we got out of quarantine, I started selling stickers," said Tenbrock.
Sara T. Designs focuses on positive messaging through quotes on her Instagram, as well as purchasable stickers. 
Tenbrock's official Instagram for the business has about 12.8k followers. Additionally, her shop currently has five quotes for sale and nearly 150 purchases, a large feat for any small business owner, especially for a high school student.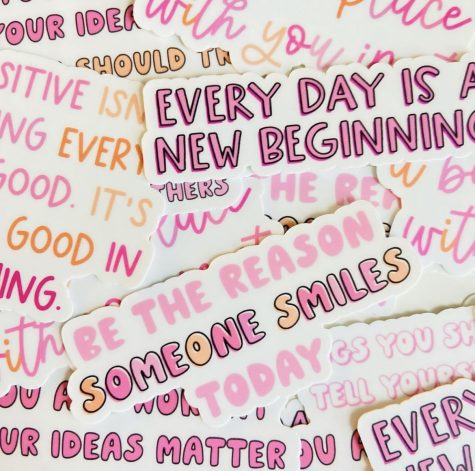 Tenbrock's mission statement of spreading positivity and happiness during hard times can certainly be seen through her Etsy reviews. 
One repeat customer of Tenbrock aptly describes the quality of service one can expect. "Super cute sticker! Perfect size and great quality! The packaging was also cute and came with a thoughtful note! Can't wait to use my sticker." 
Great customer service, products and a positive company mission seem to be a recipe for success. 
"I try to put 110% effort into everything I do so [I] set a certain amount of time each week to do stuff… it keeps me going," said Tenbrock. 
However, not all of running a small business is perfect.  The struggles of being a student business owner are not lost on her. With simply too many responsibilities, Tenbrock can be forced to pick one. Tenbrock frequently must choose between school, business, tennis, and other clubs. These are choices that both she and other student small-business owners must make.
While school itself does take up a lot of time, so does handling a business. There's more to running a business than just sales. The building and maintaining of a brand is a time-consuming task.
"It takes a long time to respond to messages, brands, comments, and try to make sure nothing is going on I should know about. It's hard with homework, when I get home I want to have an hour to work on stuff, like pack orders, but sometimes it's not possible," said Tenbrock.
Schoolwork interfering can be exacerbated during finals week, however, Tenbrock described her solution to this issue.
 "During finals, I said I can't deal with any orders this week, so I turned it on vacation mode and no orders came in. Then I just made an announcement 'I can't this week but I'll get to you next week,'" she said.
Vacation mode is a function in Etsy where you can temporarily 'close' down your shop. A screen will cover your purchasable items that tells customers items are on hold for now. It also gives customers the seller's contact information should they want to communicate with the owner for any reason.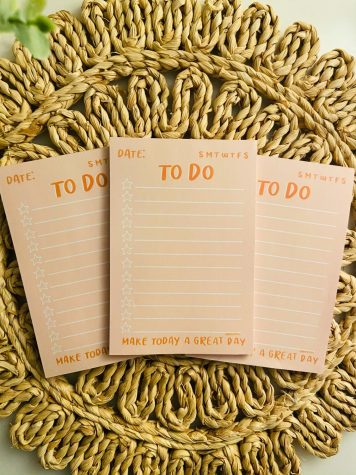 This isn't Tenbrock's first time using vacation mode either.
"When I first moved here a few months ago, I put it on vacation mode so that I could get settled in, and there was a period of time where I was on a month-and-a-half break because I was just on creative burnout," she said. Tenbrock moved to Illinois just a few months ago from Texas. Sara T. Designs was started there due to extra time from quarantine. 
Balancing large responsibilities all at once is the main struggle for small business owners, but not the only one. Running an online business, it can be difficult to avoid obsessing over the numbers.
"I try not to focus on followers or likes," said Tenbrock. She said that while losing around 25 followers a day is normal for large Instagram accounts, it can be stressful. Having people exposed to your content is crucial for success, and seeing a loss in followers can cause insecurity. 
"I think anyone can start their own business; you just have to do it for the right reasons. People can tell if you're just doing it for the followers or money," said Tenbrock.  
With a focus on positivity and dedication, Tenbrock is planning on keeping Sara T. Designs around for a long while. Her store will be expanding within the coming months as well.
Detailing her plans by saying, "I'm planning on releasing T-shirts around March, just because I make them. I have a heat press so I need to order ink. Because of COVID-19, a lot of things are on back order." 
Dedicated customers and those interested in purchasing stickers can also expect an upcoming upgrade. 
"When I first started, I started making [stickers] with my Cricut, a cutting machine, at home. But recently, I partnered with a brand. They sent me my stickers for free and I promoted [the stickers] for them, so I think now I'm going to start outsourcing. They're way higher quality and for the money, you want high quality," said Tenbrock.
With new things in the works and upgrades on the way, both dedicated customers and Tenbrock can be excited about the future.
"I can say that I'm happy with everything that I'm doing," she said.