Film Club Set To Host Movie Nights For Students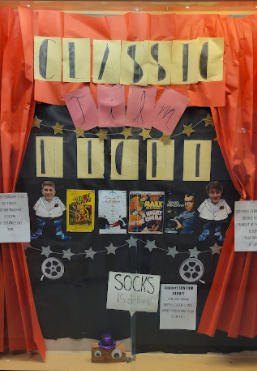 Film Club, a new pilot club at North this year, is holding two movie nights, on Friday, Feb. 11 and Saturday, Feb. 12 open to all North students in the auditorium. 
Two movies will be shown each night with doors opening at 6 p.m. Admission is $5, and North students must bring their ID to get in. 
 Jan. 11 is Sci-Friday night and the Film Club will be showing "The Time Machine" starting at 6:30 p.m. and "Dr. Strangelove" at 9 p.m. 
Jan. 12 is the Classic Movie night Double Feature with "A Night at the Opera" at 6:30 p.m. and "Rear Window" starting at 8:30 p.m. Students can also choose to come and watch only one of the movies. 
"Because of copyright law, we needed something that was made before 1977," said Quinlan Kyp-Johnson, Film Club adviser. Despite these movies being older, Kyp-Johnson feels that students will still be able to connect with them.
"["Dr. Strangelove"] is just funny and a little bit obscure, but enough that hopefully, it still translates to you guys today," she said.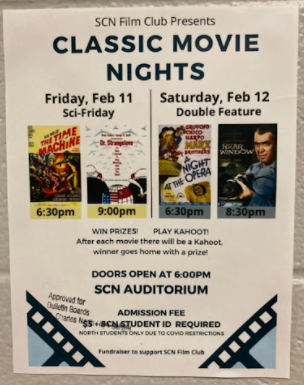 Film Club is also planning other activities for the night after each movie. 
"After each movie we'll have a Kahoot that people can play, and whoever wins the Kahoot, gets prizes," said Tiffany Lu, sophomore and Film Club President. 
Additionally, Film Club members Atticus Pixton and Derek Hibben (Film Club Vice President) will emcee both nights. 
Film Club has many plans for the rest of the year, and this event will help them accomplish their goals. 
"We're also selling socks at the movie night because we want to raise money for the end of the year Oscars party that we're gonna have," said Lu. 
The socks are custom Film Club socks and will be sold for $15. 
They are also using this event to raise money and prepare for a 48-Hour Film Festival (different from the Oscars party) they plan to hold at the end of the school year, right after school gets out that will be open to all students (including incoming freshmen), not just Film Club members.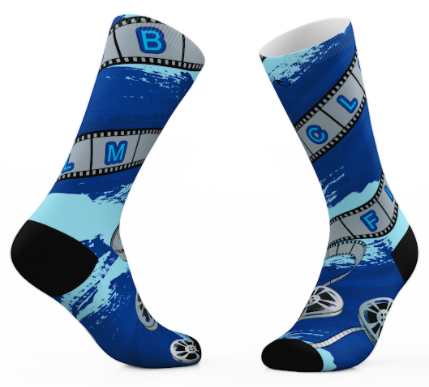 In this event, teams will show up and will be given a packet with guidelines about a character or prop that must be included in their film, along with safety guidelines.
"And then those teams will have 48 hours to create a film and turn it in. And then after that 48 hours, we will meet and watch them," said Kyp-Johnson. 
Dates and times are not yet confirmed for the 48-Hour Film Festival, but right now Film Club is looking forward to and preparing for their Movie Nights. 
"We're excited to be doing more events. First semester, we spent a lot of time just trying to figure out 'Who are we, as a club?' …and we've really been kind of starting to hit our stride second semester," said Kyp-Johnson.