Alyssa Hughes Makes North Basketball History
Alyssa Hughes, junior on the girls varsity basketball team, is having a record-breaking season and career, and she's nowhere near being done with setting records for North. Hughes has been on varsity since her freshman year. 
At a home game earlier this season against Wheaton Warrenville South, Hughes broke the record for most career 3-pointers for North girls basketball; the previous record was 112. Hughes was at 115 by the end of that game. 
Since then, she has also broken the record for most 3-pointers scored in a single season for girls with the previous record being 54. Hughes currently has scored 78 3-pointers this season alone. 
On Monday against Addison Trail, the first playoff game of this season, Hughes tied the school record for most 3-pointers in a single game with seven. 
She is also one of only three other North basketball players, boys and girls, who have scored more than 500 points in a single season at North. 
"I'm really just looking to help my team win, and I just try and do what's best for the team," said Hughes. She also credits part of her personal success to her team, saying, "They're always putting me in good positions to help me get my shot to score."
Hughes has been playing basketball since elementary school, but she didn't start solely focusing on it until middle school. She currently plays at a club year-round outside of school.
"I play for a club called M14. We have that season in the spring and the summer, and then they do training for us before the high school season starts," said Hughes. 
The most impressive thing about all of the records Hughes has broken is the fact that she is still only a junior, and her junior season hasn't even ended yet. She has managed to achieve all of this already and still has her senior season left. Not only that, but as a freshman, her season was cut short due to COVID-19 shutdowns.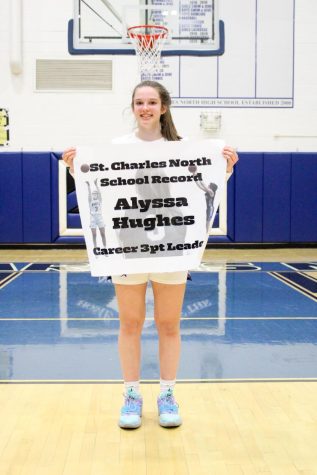 Girls varsity head coach Mike Tomczak attributes much of her success to her impressive growth on the basketball court over her years on the team. 
"Her game on the court has evolved. She's a better ball handler than she was. She's stronger with the basketball," said Tomczak. "She's always been a good shooter, but she's continued to grow in that area too, even though it was a strength of hers. I think her on-the-court leadership is growing as well. She's developing more of a voice all the time.". 
Hughes' growth has led her to have a very notable and record-breaking career. 
"She's having one of the best individual seasons in the history of the building, boys or girls," said Tomczak.