Varsity Cheer Scores 11th-Place Finish At State
On Saturday, Feb. 12, North's varsity cheer team finished in 11th place at their state competition. This marks the second time in three years that the cheer team made it to state, after accomplishing the same feat in 2020.
Coach Adrianne Noworul was very proud of the team's performance. 
"They did amazing, it was incredible," said Noworul. "It was the best performance of their entire season."
The state competition was divided into two days. To move onto the second day's competition, the team needed to finish in the top 10 of schools. They ended up coming in just 0.2 points shy of the 10th-place finisher.
 Still, Noworul was happy with the team's finish. 
"Knowing that we left Day 1, and the routine was absolutely amazing, the feeling as a coach that I had and that [the team] had coming off the mat was incredible," said Noworul. "It was the best way we could have possibly imagined ever ending the season."
This positive spirit was shared by much of the team as well.  Keira Sons, junior, wasn't disappointed by the team's ranking either. 
"For me, it was less about the placement, and more about how well we did as a team," said Sons.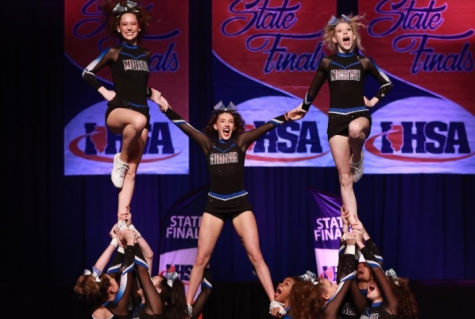 Sons was also satisfied with the team's performance during state.
"That feeling after we hit that last stunt, and knowing all we had left was the dance, was so awesome," Sons said. "We knew that we hit that routine, it was just such a good feeling."
The weeks leading up to state were uplifting for the team, especially for upperclassmen returning for the second time in just 4 years.
"It was such an amazing feeling to be back there," said Paris Gidcumb, senior. Gidcumb was part of the team when they also went to state in 2020.
This year, the team finished in second place at sectionals following a successful season.
 "Hearing that we got second at our sectional was just very accomplishing, and our practice mindsets got super hyper-focused on our goal of doing well at state," said Skylar Gorka, senior. "It definitely paid off."
Practice for the team also intensified following their strong sectional finish.
"I think hearing that we were going to state, it was really rewarding, because we know all the hard work we put into the season really paid off," said Meagan Vollman, senior. "We knew our practices were going to be a lot harder, but for state we really wanted to do well and make a name for ourselves."
But above all, it was the determination of the team that led them down the road to state this season.
"What's so great about this team is that you can see how much they wanted [to go to state]," said Noworul. "Since day one when we got together, they've just been so focused on their goals, they've never stopped trying."
Gidcumb, too, was proud of the team's drive and progress.
"Just seeing this team and how far we've come was really amazing," said Gidcumb. "I've never had a team as bonded as we are, and in order to be able to trust each other and work together and be so in sync, you have to be close outside of the mat. I think we really achieved that good relationship, and we did so well this year because of it."