Alec Filipovic Wins Two State Championships; Swim Team Places 8th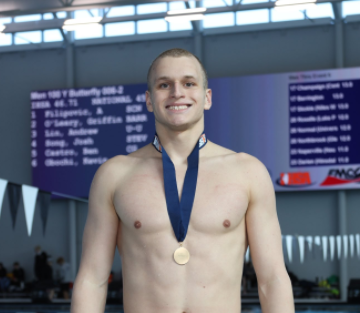 Boys swimming and diving has made a splash this season in big ways. The team sent nine athletes to the state competition on Feb. 25 and 26 and finished 8th at state. 
"We had a great year. We had a top 10 finish at the IHSA state meet. I'm very proud of the boys who were at the state meet. We had a lot of first time guys there that have never been in that situation before," said Robert Rooney, boys swim coach.
Alec Filipovic brought home the gold in two events. He was the state champion in the 200m individual medley and the 100m butterfly.
"I feel really good. I was defending my title in the 100m fly and I won," said Filipovic.
The rest of the team was also excited about Filipovic's finish at state.
"I think Alec getting two state championships individually was an awesome thing," said Rooney.
The team also placed sixth in the 200m freestyle relay. Filipovic, William Duetmeyer, Kane Kriz and Robby Kemp were part of the state finisher relay team.
"We had a couple relays make finals and one place so that was great," said Rooney.
The team did well throughout the season, placing first at conference and sectionals.
"As a team, I'm really proud of how we performed and how far we got," said junior Henry Gawlik, varsity swimmer.
Even though the team had hoped to place higher at state, all of the athletes and Rooney are proud of what they accomplished.
"As a coach, you always want more and for us to do better, but I'm very pleased with what I saw out of this team this year," said Rooney.
Even though their season just ended, the team is already looking ahead to next year.
"Hopefully I get a state cut next year and can compete there," said Gawlik.
As five out of 17 varsity swimmers graduate this year, Rooney encourages anyone who is interested to try out.
"It's a great group of boys and an awesome, awesome program," said Rooney.