Student Council to Host Princess Superhero Meet and Greet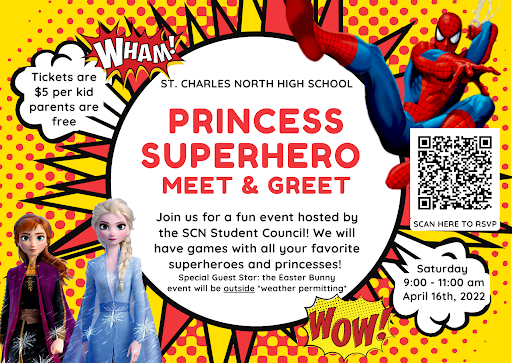 Student Council will be hosting the Princess Superhero Meet and Greet on Saturday, April 16, from 9 to 11 a.m. at North High School. The Princess Superhero Meet and Greet is a community event where kids can come meet their favorite characters and participate in fun activities. Tickets are $5 per kid, and parents are free. Funds raised from the Meet and Greet will go towards senior events.
"We have high school students who volunteer to dress up as different princesses and superheroes," said Megan Libberton, Student Council adviser. "[Kids] take pictures with them. They dance with them. We do a bunch of games and crafts and just different opportunities for [the kids] to spend a couple hours with the characters that they look up to."
The star-studded cast includes Moana, Batman, Rey, the Red Power Ranger and new this year, Scooby-Doo.
"This year, with it being in April, on the day before Easter, we have the Easter Bunny making a special appearance," said Libberton.
Student Council reached out to North students to find volunteers to dress up as the characters.
"This year, we've got not just Student Council people helping out. I did post to seniors on the Class of 2022 page, so we do have some non-student council candidates who are dressing up as some of the characters for us," said Libberton.
Volunteers were able to list their top three choices for characters, and were then assigned costumes based on availability. Students tried on costumes in advance to make the necessary alterations.
"I've always been into helping out with the community, I've been in Student Council since my freshman year, and I'm a sophomore right now. I knew I was really good with kids, and I knew the seniors needed help," said Chloe Dedicatoria, sophomore with the role of Mulan.
Students are also volunteering outside of costume, with some helping out with the various activities.
"Even if you weren't asked, you could just tell one of [the advisers] that, 'hey, I'm willing to do it,'" said Dedicatoria.
Before the pandemic, the event was a breakfast usually held in December, and last year, it was hosted online. This year, to avoid potential complications with COVID-19 restrictions, Student Council decided to host the event outside.
"This will be the first time that it's been outside. And we're not having breakfast like we've done in the past, though we did buy some individually wrapped snacks just because they are little kids. I know my own kids will get a little hungry," said Libberton.
Some of the activities were also adjusted as safety precautions.
"We normally do face painting, but we wanted to limit the amount of touching things, especially on our bodies, so we're doing tattoos instead," said Libberton.
The expected turnout for the event is the same as years past, despite the safety precautions.
"We've got a lot of people from different communities who've already RSVPed, but I would say anywhere between 100 to 150 kids [signed up]," said Libberton.
All those involved are waiting in eager anticipation for the event.
"Not only is it nice for me to see the smiles and the joy on my own children's faces, but to see these high school students interacting and the joy on their faces. It's just a feel-good event," said Libberton.