North Graduate Jessica Cohen Only Current Female Head Athletic Trainer in NBA
Jessica Cohen, a 2006 North graduate, became one of the first female head athletic trainers in the NBA in January 2022 when she joined the Portland Trailblazers, and she is the only current female head athletic trainer in the league. 
Being a female in a predominantly male field isn't easy, but with immense amounts of dedication and hard work, Cohen was able to achieve her goals. 
Before athletic training came into the picture, Cohen attended Vanderbilt University in Nashville, Tennessee for an undergrad in political science, and she obtained a degree in health policy and human organizational development. Right before graduation, Cohen was supposed to go to Kenya to work for two years, but ended up not being able to go. 
"I just decided, I was finishing school and I needed to get a real job. I had been an athlete at Vanderbilt on the swim team, and the football head athletic trainer kind of heard about my predicament of having to decide if I was going to volunteer, or what I was going to do, so he asked me if I wanted to be a student athletic trainer for the football team," said Cohen. 
Cohen immediately took interest and began with the basics: taping ankles, making Gatorade and working with the football team every day. She stayed for the semester, taking prerequisites for athletic training and decided that working in high level athletics for professional sports was the route that she wanted to take. 
Cohen attended Northwestern University in Chicago and earned her doctorate in physical therapy. During school, she was hired as a part time assistant for the WNBA and after she graduated, she started with them full time.
"The day after I graduated PT school, I started full time as the head athletic trainer, physical therapist and kind of the rest is history," Cohen said.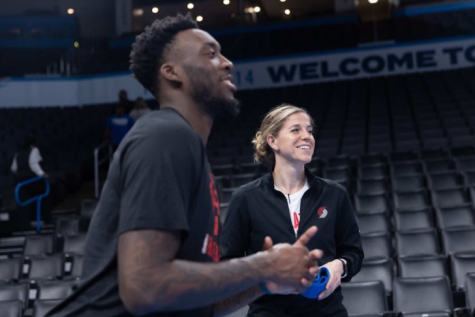 She was the head athletic trainer and physical therapist for two seasons with the Atlanta Dream and five seasons with the Chicago Sky. 
Cohen joined the Trailblazers in 2019 as the assistant athletic trainer and physical therapist, and then her dream came true in 2022 when she became the head athletic trainer and physical therapist after three seasons. 
A typical week for Cohen and the Trailblazers can be pretty chaotic with ever-changing schedules. Cohen estimates that in a typical week she works about 60 hours. On days with home games, getting to work early in the morning, Cohen takes care of players coming in for rehabs, conditioning and workouts. After a short break, the players partake in their pre-game routines, play and then address any needs after the games. For away games, the players will travel along with Cohen, and then they go through a health and performance or "H and P" session. 
Free time can be scarce, but when there's an opportunity it is always taken. 
"When we're in season and we have free time, a lot of your off days are just kind of an opportunity for you to get to do normal adult things. You go to the grocery store, and you do your normal errands. In Portland, Oregon, a beautiful part of the country, the Pacific Northwest, there's a lot of places to go hiking that aren't far from here. The cool thing about Portland is you can be on top of a mountain in an hour and a half and you can be at the ocean in an hour and a half," Cohen said. 
In a lot of professional sports environments, gender can be a bit of an obstacle to work around, especially in Cohen's profession. 
"As far as challenges go, I mean, I wouldn't say there's never been a time in my career that I've felt someone's telling me I can't do something with my job because I'm a female.  The Portland Trailblazers in general, as an organization, have been wonderful in terms of not really allowing my gender to inhibit me from doing any task," explains Cohen. 
Cohen believes that though it is a predominantly male industry, gender shouldn't matter as long as success can be proven through skill.
"The industry is definitely changing, and we're evolving, and I think if you can prove yourself unrelated to your gender with your skill set, whether that's in the video room, and a coaches meeting and you know, with a rehabilitation, it doesn't really matter," said Cohen. 
When pursuing any career, there are always people that are going to become obstacles. However, it all comes down to motivation and desire. 
"Don't let someone tell you that you can't do a certain profession or a certain job because if you really want it, you can do it. It's just how much sacrifice you want to put into it. I would say that I probably had to give up quite a bit of sleep and a lot of social activities to be able to demonstrate work ethic and dedication to what I want to do, but I was able to do it," Cohen said.