Emily Hartmann Wins Gold at National Art Competition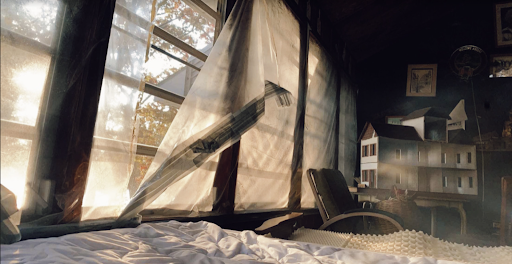 Emily Hartmann, a senior at North, has recently won gold at the National Scholastic Art Awards. Hartmann entered three pictures in a competition in which over 260,000 other pictures and works of art were submitted.
In the Scholastic Art Awards, submitted photos are first judged in a regional competition. The art, if the judges choose to give it special recognition, is awarded a Gold Key, Silver Key, or an honorable mention. Hartmann's submissions won one of each. 
"Each one of the Gold Key winners from all over the world go to the national competition," said Hartmann. She won a Gold Key at the national level as well, and will be honored at an awards ceremony in New York this June.
When Hartmann first took her winning image, however, she did not have any sort of awards in mind. 
"I took it a year before I even knew the Awards were a thing," said Hartmann.
The picture was taken at a lake house that has been in Hartmann's family for generations. "My dad grew up in this house my great-grandparents built," she said. The doll house seen in the picture was built by Hartmann's great-grandmother, whom she is named after.
"I was just hanging out in the room, just saw how beautiful it was, and wanted to take a picture, capture the moment," said Hartmann.
 She took it in 2020 during a trip to the house with her immediate family while federal quarantine was still in effect for the COVID-19 pandemic. 
"We were going through a hard time with my dad's medical [issues]," said Hartmann. "We ended up going there just for him."
Over a year later, Hartmann showed the picture to her current photography teacher, Mrs. Dodd. 
"She's always pushed me, but this year she pushed me to get into actual competitions," said Hartmann.
Dodd guided her through the process of submitting her photos to the regional awards, and the rest was history.
Hartmann was walking to a meeting one day, not long after winning the regional Gold Key, when she found out the results of the national competition.
"My friend texted me and said 'Look at your email', and I had gotten an email from Mrs. Dodd," said Hartmann. "She explained that I had won the nationals."
The results came as a surprise to Hartmann. 
"My whole body was shaking, it was like, everything just went quiet," she said. "It was like, 'Oh my gosh, really?'"
Having such a personal photo win the competition was very meaningful to Hartmann. 
"It was such a special picture, and [my friend] was like, 'Oh my gosh, look what you did,'" said Hartmann.
However, Hartmann says she would not consider submitting another photo to future awards. 
"I feel like I already achieved the highest of the highest," said Hartmann. "I want to finish on a strong note."