Project Dance Glow Shines a Spotlight on Special Needs
This year, Team Polaris will be hosting Project Dance Glow on May 14 from 3 to 5 p.m. on the SCN football field with a rain date planned for May 15. Tickets will be sold at entry for $5 per person or $15 for families of three or more. Funds raised will go towards local organizations focused on helping people with special needs.
"Project Dance is a fundraiser and event to raise awareness for individuals with special needs, both within our school and also within our whole community," said Lilly Dye, senior Team Polaris member. 
The event features dancing, activities and special guests, including local musician Jaylin Santana. 
"Something big we do every year is the morale dance. That is just the dance that everyone knows. We do that just so that everyone feels comfortable, even if they don't always love to dance," said Dye. 
The dance will be taught at the event, so everyone can participate regardless of experience.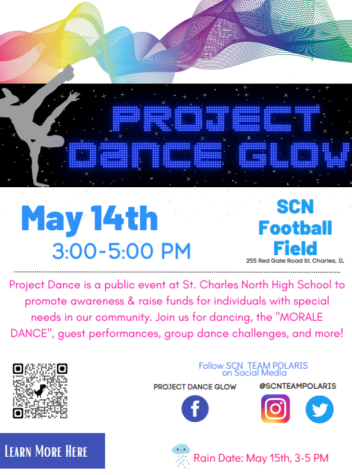 Traditionally, the event was more structured around stations and featured "buddies" where students could pair up with individuals with special needs. However, due to COVID-19 restrictions, changes were made to the format.
"We're not going to have buddies and we're not going to have stations within the gym as we usually would have," said Dye. 
Instead, it will be more focused around the dancing itself, and will include COVID-safe activities such as a photobooth. 
Last year, Project Dance Joy, featured an online hosting of the event.
"We had a YouTube video that we made. That was fun, but it just wasn't the same as actually getting to interact with people and see them," said Sumaiya Farook, junior Team Polaris member. 
The event is open for all members of the community, not just North students.
"We're also reaching out to elementary schools and middle schools. We're giving fliers out to them," said Farook.
Team Polaris members are looking forward to seeing everyone come ready to dance with smiles on their faces.
"I always just love when everyone gets there, and they walk in," said Dye. "And the first time we're learning the morale dance, and everyone gets to do it together, that's always something really special."