Auburn Roberson Swings Big in North Sports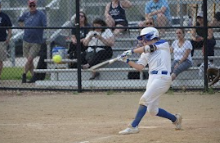 St. Charles North senior Auburn Roberson has set out on her journey as an athlete and has chosen to pursue softball for her athletic career in college. 
Roberson began playing sports at a young age, which influenced her decision to continue them into her high school career. 
"I think when I was 4 I started playing football and baseball. I played basketball in elementary school, and then switched over to softball. My freshman year of high school I played soccer in between and I played golf my junior year," Roberson explained. 
Roberson devoted herself to softball and football as her main two sports, liking them both the most and growing to love her teams. She stuck with most of the boys from the football team when moving from middle school to high school, which solidified her good relationships with most of these players. Strong relationships with both her softball and football teams have also led to lots of success during her seasons this year. It built mutual trust between teammates which contributed to many victories over St. Charles East High School throughout the season. 
One sport alone is pretty busy as it is, but being a dual athlete can be even busier, season overlap being the most hectic.
"I think some of the training and practices are hard, especially in the summer. That kind of shoots your summer in the foot, but it's kind of the sacrifice you make, and that's like the only time it really overlaps, in the summer, but I have a pretty nice winter in between," Roberson explains. 
Different sports means different practice schedules, game schedules and tournament schedules. Depending on the sport, the time it takes out of the week varies.
"Football, we would go until sometimes seven at night when we go right after school, so that was a lot. That's all the way through summer and then into almost October, so that was four hours a night and softball was a little bit easier with two-and-a-half hours and then with a game, maybe like three hours a night," Roberson explains. 
Inevitably, being a busy athlete means also being prone to injury. Roberson recently recovered from a shoulder injury due to overuse. Since then, she has bounced back stronger than before. 
"I just had overuse from throwing so much in between sports, and that was just kind of like, 'you need to rest,' and so the winter was nice where I just got to heal up and I didn't have to do anything," Roberson said. 
Roberson committed to University of Wisconsin-Whitewater, deciding to continue her athletic career in softball. While she still really enjoys playing football, she ultimately made the choice to devote herself to softball. 
"Softball is just something that I love forever. I found my love through my team, coaches and everything like that,"Roberson states. 
Very ambitious, Roberson has already set some goals for herself that she hopes to complete in her college career.
"I want to start as a shortstop one day for Whitewater, so that's a big goal, and then just be the best team player and hitter I can be," said Roberson.