North Implements New Safety Policies
A District 303 policy has recently been implemented at North which requires that classroom doors be locked during all class periods. Policies regarding passes have also been updated at the school.
While the policy requires the doors to be locked, they do not necessarily have to be closed.
"We understand that this can be difficult with some classes if they have a lot of foot traffic in and out of the doors, which is why we are telling teachers who do need to keep doors open to keep them locked and propped open," said Bryce Rentschler, Student Resource Officer at North.
This is Rentschler's first year working at North. He has five years of experience working general assignment patrol with the St. Charles Police Department. Since arriving at the school, Rentschler has given a presentation at an all-staff meeting about safety procedures.
"Part of my job is to brief staff members, teachers, basically anyone who works throughout the school on safety procedures and to remind them of policies," said Rentschler.
According to Rentschler, having the doors already locked would make securing classrooms faster in the case of a lockdown. The school already required all exterior doors to be locked.
"[The policy] has been best practice for some time, but it's something that we have been trying to emphasize this year," said Michael Tomczak, Dean of Students.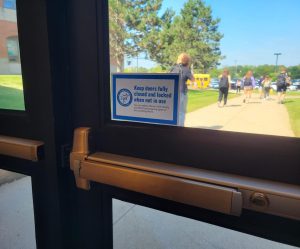 The school already had policies regarding exterior doors, which are similar to the new policy on interior doors.
"We are really emphasizing exterior doors being locked at all times and making sure students know not to let anyone in," said Tomczak. "We want to funnel everyone through the main door where our safety protocols are in place."
North is also now requiring all students to have passes when they are in the halls during class periods. Teachers were provided with laminated passes they could give to any student, but they can also choose to write individual passes.
"We want kids in classes as much as we can," said Tomczak. "Students roaming the halls without supervision can be a safety concern."
The pass requirement aims to help the Dean's Assistants know who is allowed to be in the halls during class periods. 
"If there is a recurring issue where a student is asked to produce a pass and they can't, that's typically something that a dean's office is going to be responsible for," said Tomczak.
Along with the new policies, the administration is looking to strengthen pre-existing security policies such as reporting suspicious activity.
"The students are our biggest source of intelligence when it comes to things that are out of the ordinary or things that are suspicious," said Rentschler. "My recommendation for the safety of the school and everyone that goes here is if there is something that you feel needs to be addressed by a staff member, please bring it up."