Marching Band Kicks Off Season with New Uniforms
St. Charles North Marching Band, under the direction of Kevin Dobbeck, has been emphasizing efficiency and balance, especially with the new uniforms. 
This is Dobbeck's second year coaching the marching band at North. He spent last year getting to know the students, and this year, wants to make sure that "we have a good balance of marching band."
"I think they do a good job of making sure kids can be in multiple things," said drum major Brenna Jun, senior. 
Continuing with the theme of balance and efficiency, the new marching band uniforms make the marching process less time-consuming for students and provide a more modern design.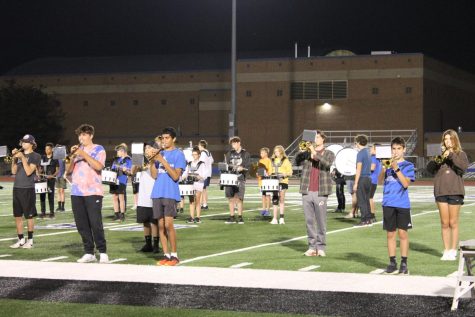 Dobbeck was inspired by the University of Oregon's marching band uniforms in coming up with North's new uniform design. 
"I reached out to [University of Oregon], and I just kind of asked, 'Hey, how do you guys structure this? What kind of materials do you purchase? What lasts?' And they got back to me right away and were super cool about it," said Dobbeck. 
North's new band uniforms are Nike products, with black sweatpants and black zip-up sweatshirts. The musicians also wear a white baseball cap with the band logo on the front. 
Students state that the new uniform saves time.
"Last year with the old uniforms we'd have to get to games super early because it took so long to figure out all the different buttons and zippers. It was really hard to get the old uniforms on," said Jun. 
The new uniforms are also significantly cheaper for the school, and modernize the look of the band. 
For now, North is still holding on to the old uniforms and Dobbeck is looking into programs to either recycle, donate or reuse them. 
The marching band and their new look will continue to "provide the most electric environment we can on a Friday night," said Dobbeck.