Senator Karina Villa Speaks to the Government's Role in Mental Health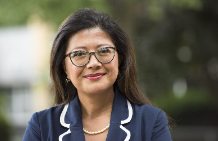 While society begins to return to its pre-COVID-19 ways, mental health has started to come to the forefront of many people's minds. COVID-19 saw people being stuck in their homes for months at a time. Karina Villa, Illinois Senator for the 25th district, vice-chair on the Senate's mental health committee, and former school social worker, believes that quarantine had a very negative impact on the minds of kids and teens.
"Developmentally, when you're a teenager, specifically in middle school, your number one system of support is your peers," said Villa.
The overreliance on technology that came as a result of the pandemic also had a negative impact on the mental health of teens.
"All of the news on our phones 24/7  can cause mental fatigue, exhaustion, anxiety and depression," said Villa.
Villa notes that the waiting time to speak to a mental health professional is much longer than it was just a few years ago. The Illinois State Government has seen an increase in mental health issues and a decrease in mental health professionals and has used the state budget in a way that will help improve these conditions. The 2023 Illinois State budget dedicates $168 million toward mental health programs for children and adolescents. This is a $42 million increase from the 2022 Illinois State budget.
"We prioritize dollars for mental health services and for increasing the pipeline of mental health workers, social workers, counselors, psychologists and psychiatrists," said Villa.
The shortage of mental health professionals is not only prevalent in larger communities, but in schools as well. The National Association of Social Workers recommends that there is one social worker for every 250 students and one for every 50 in schools with high levels of trauma. Kane County has one social worker for every 853 students. Villa shared her own experience with a social worker shortage in the school district where she worked as both a school social worker in District 45 and a member of the school board in District 33, and how a solution was found.
"[District 45] used to have multiple buildings. One social worker would have to go to two or three different buildings per week which made it very difficult to be able to do the job, to be able to spend as much time as necessary with certain students," said Villa. "While I was on the [school] board, my number one thing to advocate for was having full-time social workers in every building, and it took a while, but eventually we were able to pass a budget that included full-time social workers in all the buildings."
One of the ways the government tries to make beneficial changes in communities is by allowing citizens to voice their opinions on bills via committees. Bills regarding mental health go through the mental health committee. The mental health committee is a group of senators that judge whether or not a bill deserves to see the floor of congress by listening to testimony from Illinois residents.
"[The mental health committee is] intended for everyday people to come and give testimony about the pieces of legislation. It's a really great way for everyday people to give feedback on bills and legislation," said Villa.
The COVID-19 pandemic has shown that mental health has become a much more prevalent issue due to it being much harder to interact with people. However, it is starting to seem like progress is being made in order to better help individuals who deal with mental health issues. During the pandemic, 12 states instituted planning to improve school mental health systems. Illinois was one of these 12, passing SB 818 which requires health classes to teach about mental health and HJR 1, which encourages schools to provide mental health training and education for students.
"I really do think mental health is at the forefront of the minds of the vast majority of legislators, no matter what side of the aisle they're on," said Villa.