Mi Gente Celebrates Hispanic Heritage Month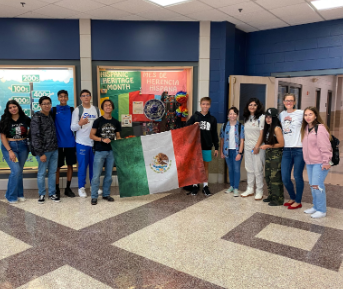 St. Charles North High School's Mi Gente club celebrates Hispanic Heritage Month from Sept. 15 to Oct. 15 to shed light on diversity and Hispanic culture. This club has spread awareness through their fundraising and the display case they put up in the main foyer. 
"[Mi Gente is] a group of students who have/came from a Hispanic background, at least our leaders do, who wanted to form a student interest group to bring their culture to North,"  said Julia Sanderson, Mi Gente adviser. "[We] help people find others that have a shared cultural experience and also just to help people who are interested in learning more about the Latino experience."
Mi Gente's main focus is to inform and shed light on the Hispanic experience as well as to correct misconceptions about the culture.
"I think that there is maybe a perception that just one thing is representative of the whole culture like maybe you're like 'oh, it's just tacos,' but the diversity of the Spanish-speaking world…it's one of the most spoken languages in the world, the differences in food, or clothing, or personal experience are so diverse," said Sanderson. 
In order to spread awareness about the club, Mi Gente held a fundraiser where they sold different types of Hispanic snacks, including a chili mango-flavored lollipop called Vero Mango and an apple-flavored soda. 
"We sold out the first day and had to get even more, so it's really exciting, and I think we've been celebrating really well," said senior Sebastian Torres, one of Mi Gente's student leaders. 
Another thing Mi Gente has done to spread awareness is decorate one of the display cases in the main foyer for Hispanic Heritage Month.  
"We set up a glass case in the front of the school to display different pieces from the student's cultures. We have some items from Mexico, Central America and South America just showing different cultural items, clothing and things like that," said Sanderson.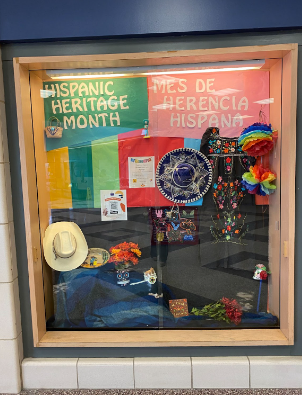 Mi Gente is planning on holding upcoming meetings outside of school by going on field trips to immerse themselves in local Hispanic culture. 
"We are planning to do some field trips to experience cultural things that are available in the Chicago area. There are murals and different musical theater opportunities, so to be able to invite people who are interested in learning about Hispanic culture is exciting," said Sanderson. 
The club is available to everyone, and people who don't come from Hispanic descent but are still interested in learning are encouraged to join. 
"Mi Gente club is a safe space where everyone can join, not just Latin people or Hispanic people, anyone who wants to join and learn about cultures, food, traditions, just overall everything that goes on in Hispanic culture," Torres said. 
With D303's new motto for the 2022-2023 school year being "Be you. Be here. Belong," Mi Gente is a club where anybody can be themselves. 
"It's a really great safe space where you can have conversations with others and not feel like 'oh, I don't really belong here' and I know that's a thing that North really wants to do this year–just feel like you belong," said Torres.
Anyone interested in joining Mi Gente can go to the 430s pod after school on a Tutorial Wednesday. 
"I think that we are joined in our identity as North Stars, and that is a very important thing, but even within that collective [identity] it's really important for all kinds of different groups to feel like they are from their own culture and it's welcomed and accepted," Sanderson said.