North Awarded 2022 Blue Ribbon
On Sept. 16, U.S. Secretary of Education Miguel Cardona announced that St. Charles North was named a 2022 Blue Ribbon School. Since opening in 2000, North has been awarded this honor twice, first in 2010 and now in 2022. 
The Blue Ribbon award is the highest national award for schools given by the US Department of Education to commend schools for excellent academic achievement. 
"It's really a way for the federal government to recognize states and schools for just
the successes that they have," said Shanna Lewis, North principal. 
The US Department of Education looks at 131,000 schools from across the country, public and private, and based on their eligibility requirements, narrows down the list to 450 outstanding schools. The nominated schools are then invited to apply for the award. 
North was informed of its nomination in the fall of 2021 and filled out an application which examined a variety of factors.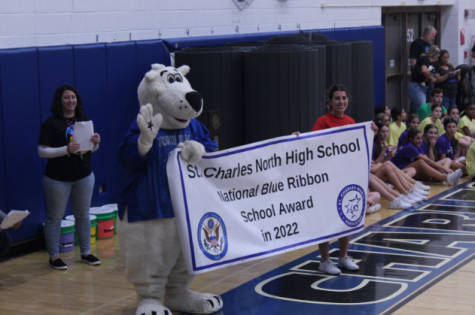 "We had to talk about the history of the school, the programs we offer academically, clubs and activities and then they review that," said Lewis.
North was one of 297 schools across the country that received the 2022 Blue Ribbon Award and one of two high schools in Illinois to receive the award. 
Specifically, North was recognized for being an Exemplary High Performing School, meaning that standardized test scores and graduation rates are very high, which reflects on the actions of North students in recent years. 
"One of the major factors is the achievement of our students and their engagement in the school. So we have great teachers, but this is really in recognition of all of the hard work that kids have put in, and really just the dedication they have to doing well and to doing good things," said Lewis. 
However, the implications of the Blue Ribbon Award go deeper than just the accomplishments of the students. It also reflects on the staff and the support provided to students by North and how these supports have developed since last being named a Blue Ribbon school in 2010.
"I think we've also done a greater job focusing on students, like social-emotional awareness, and helping students feel supported socially and emotionally, which then does translate into learning and your performance," said Amanda Jacys, English teacher at North since 2003. 
The 2022 Blue Ribbon Award is a representation of the dedication and cooperation between students and staff at North. 
"Not only do staff work together to collaborate, I think students are very collaborative," said Jacys. "And I think that just brings out a nice sense of community and friendship and that we're all working towards goals together," 
Lewis surprised the entire staff and student body on Sept. 16 during 3rd hour with a video announcement commending everyone for the collaboration that went into being recognized as an exemplary school on the national level. 
"North Stars, know this is in recognition of your greatness and your uniqueness and we will continue to find ways to support your success," said Lewis, in the video announcement.