HOPE Club Spreads Awareness About Drugs and Alcohol
From Oct. 24 to 28, HOPE Club will be spreading prevention about drugs and alcohol through Red Ribbon Week. Each day there will be a theme so students can dress up to support drug and alcohol prevention.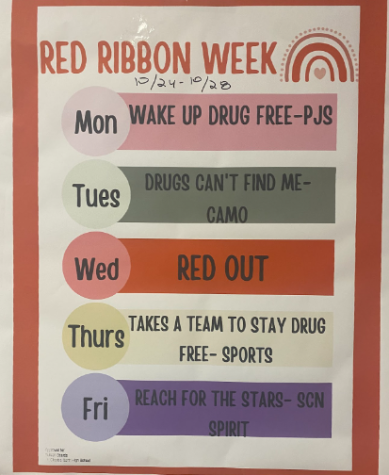 "We're hoping to spread awareness about drug use and also slowly help people improve when it comes to dealing with drugs during high school," said Kathryn McVicar,  junior HOPE Club member. 
Monday will be "Wake Up Drug-Free" where students get to wear PJs. Tuesday will be "Drugs Can't Find Me" where students have the option to wear camouflage clothes. Wednesday is "Red Out" where you should find anything red to wear. Thursday is "Takes a Team to Stay Drugs Free," so students should wear any sports clothes they may have. Friday is "Reach for the Stars," so North students should wear their North spirit gear. 
"We're going to use different things each day; we really want to get student participation," said Jessica Greunke, junior member.
HOPE Club believes that people may use drugs for a variety of reasons: wanting to be cool, experiencing peer pressure or trying to cope with something the student may be dealing with in their day-to-day life.
 "We know that a lot of times drug use comes as a way of coping and not really having any real coping skills," said Maddy Turner, senior member.
HOPE Club shows North students that our school has the resources to help any students who may be struggling with drug/alcohol use. Red Ribbon Week is a week of encouragement to help propel those students into seeking that help in a safe environment.
"[Red Ribbon Week is about] bringing awareness around the school so everyone knows that it's not as much of a stigma as there once was and that there is always someone out there to talk to," said Turner.
Red Ribbon Week, while trying to spread awareness of the cause, grows each year by coming up with new ideas to be more aware and helpful to the students who use drugs or alcohol. 
"We've gotten to the point where people are beginning to not normalize but be more aware of drug abuse and are trying to be more serious about not doing them and aiding in spreading awareness," said Sophia Olech, junior member.