The College Application Process Swings Into Gear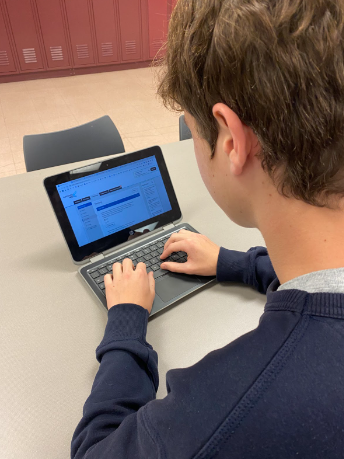 Every year, many seniors at St. Charles North begin the process of applying to various colleges. Applying to schools can be a relatively long and difficult process with many schools requiring fees and around one to two essays.
"I wish there was no application fee since it can begin to add up when you apply to a lot of different schools," said Tanner Holland, senior. "I also wish that schools had essays that were easier to move between each other because when you have to start working on 15 supplemental essays, it begins to become a lot." 
Making the shift from high school to college isn't easy, with many students being overwhelmed with how many different choices they have to make.
"I think it's overwhelming for students because they don't know where to start. We have so many schools here in the United States, which is why we direct them to Naviance, where we can show them how to do a college search based on a major of interest, and that can guide them in the right direction," said Laurie Moffitt, counselor. "As far as picking a major, we enc
ourage students to really pay attention to what they like to do, so they can consider making a career out of whatever piques their interest."
With so many electives here at North, students are free to take classes about topics that they enjoy, helping them to choose from many different career paths.
"I always knew I liked math and science because I found it the most interesting and rewarding," said Meghan Gron, junior at Purdue University majoring in biomedical engineering.
Aside from a major, many colleges may also look at an applicant's SAT and ACT test scores. While some schools no longer require submission of a student's scores because of the pandemic, others still have it as a mandatory requirement, leaving many students wondering why a single score even matters.
"Standardized tests aren't as standard as they should be. People have different resources and opportunities when it comes to studying and learning. I do, however, think that it works as a solid benchmark for where a student may fall academically, so I do think students should have the opportunity to submit them, but they shouldn't be required," said Holland.
Many people see test scores as an outdated concept in terms of judging a student's abilities due to the fact that they don't provide a wide enough scope for seeing what every student is capable of.
"I don't feel a test score defines a student's potential for success. I understand it's a measurement schools use to determine if a student could be successful in an engineering program, for example, but if a student has true potential based on other factors, such as being involved in clubs, sports and maintaining good grades in their classes, it shouldn't be the only thing that shows what the student has to offer," said Moffitt. 
This big step may seem intimidating at first, leaving students to wonder what the future holds for them, but for many graduates it's ultimately worth it in the end. 
"The process is very frustrating, and I cried many tears after being rejected from my dream schools, but in the end it definitely works out. I could not be happier with where I ended up. I love the people I've met here, the campus, and it's an amazing program," said Gron. "Everything works out how it's supposed to, and even if you're miserable you can always transfer. Colleges are a lot harder to get into than you think before you apply, but you just have to trust the process and know that you'll be okay."