North Girls Volleyball Wins Regionals
North's girls volleyball team won the regional championship on Thursday, Oct. 27 at South Elgin High School against DeKalb. The team won both sets with a score of 25-11, giving them a record of 29-8.
North, a top seed in the sectional, will advance to the sectional semifinals where they will play Huntley, a #2 seed, on Monday, Oct. 31.
"We worked really hard for this, and I think the girls put in a lot of work and they were really focused tonight," said Lindsey Hawkins, North head volleyball coach.
Players credited their teamwork as the reason for the win.
"The whole team was doing so well, and we were meshing and clicking," said Katie Scherer, junior outside hitter.
North went up early in the first set 15 to 5. North maintained a commanding lead throughout the first set until a serve from Scherer won it with a score of 25-11.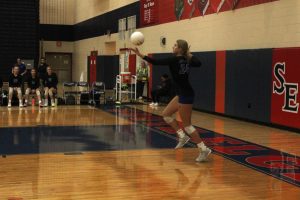 DeKalb scored first in the second set, but North quickly responded by winning a streak of points. Freshman outside Haley Burgdorf put an end to a long play with a kill to make the score 9-2.
"It was all about us getting the pass and Jess getting a set and us dominating at the kill, and I just love to go up and swing," said Burgdorf.
DeKalb made a short-lived comeback, bringing North's lead down to five before a series of kills by Burgdorf and Scherer made the score 18-9.
The team continued to win points until the second set ended with a score of 25 to 11, making North the regional champions.
North won every one of their conference games during the season, giving them the title of 2022 Dukane Conference champions.
"To go 7-0 in conference was a huge feat because it's never been done before by us," said Hawkins. "This is the first time I think anyone's won the DuKane conference undefeated."
The sectional semifinal game will take place at 7 p.m. on Monday, Oct. 31 at Harlem High School in Machesney Park.