Film Club Prepares for Horror Movie Night on Friday, Nov. 4
Film Club's Horror Movie Night is coming up next week on Friday, Nov. 4 at St. Charles North High School's auditorium. A school ID is not required, and children under the age of 10 do not have to pay the admission fee.
"It takes place November 4th here at the school [in the auditorium with a $5 admission]," says Jessica Kinzle, junior. 
During the event, three classics will be available to watch. All three were rated PG when they first came out. Each one was released before 1977, something chosen by Film Club.
"'The Twilight Zone (S2E6, "Eye of the Beholder"), "Murder by Death" and "Jaws". Doors open at 5 p.m. and we start showing the movies at 5:30. The last movie showing ends around 10:30," says Micah Olson, junior.
Along with these picks chosen by the Film Club, other activities will take place during the event. A costume is not required, nor is there a specific theme if you choose to wear a costume.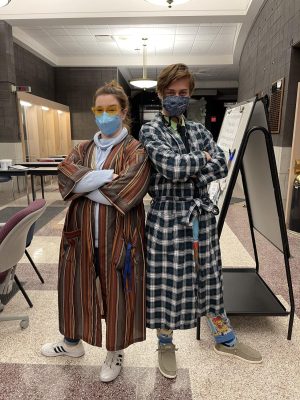 "We'll be doing a few other games, like Kahoots and stuff and a costume contest," says Kinzle. Be sure to bring your phone to participate in Kahoots and other possible games.
Snacks will also be available during the night.
"Snacks and drinks [and Film Club socks] are not included with the entrance fee, so bring extra money if you would like to purchase any of those items," says Olson.
Unlike previous years, this movie night is not open to just Film Club. Last year during the COVID-19 pandemic, this event was only open to North students. This year it is open to all who are a part of D303, including family and kids.
"Last year it was done like once but on a smaller scale, like just Film Club, now we're opening it up to like, everyone can come and we're hoping for a bigger turnout," says Kinzle.
Film Club members are looking forward to next Friday and encourage everyone else to come, too. This activity-filled night is open to all.
"We at Film Club are extremely excited to be hosting our second Classic Movie Night, and our first Classic Movie Night that is open to all in the D303 district. We hope to see you there!" says Olson. 
Film Club also plans to do another Classic Movie Night during the spring that features musicals.
"Stop by, bring a friend, you don't have to stay for the whole night, [you can just] stop by for a movie, it'll be a lot of fun," says Kinzle.