Girls Tennis Competes at State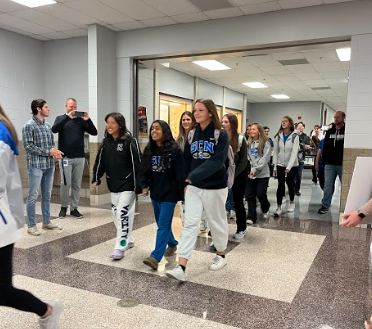 Three players from the North Girls Tennis team went to the IHSA State Finals last Saturday, Oct. 22. Varsity players Allison Gizewicz, Alyssa Joseph and Shannon Lu all traveled to represent St. Charles North.  
Singles player Gizewicz, a junior, competed in her matches with a torn labrum in her shoulder. 
Doubles players Joseph, a senior, and sophomore Lu competed together at state. They won two matches and lost two, ranking in the top 32 for Illinois.
For the single players, the state finals were hosted at Barrington High School, while the double matches took place at Prospect High School. 
Before the players make it to state, they have to go through sectionals. 
"Within those sectionals there are 16 teams, and within those you get four singles players and four doubles players go out [to sectionals]," explains Sean Masoncup, girls tennis head coach. 
Three of the eight girls who made it to sectionals from North were able to qualify for state.
To qualify for state, the girls put an extreme amount of hard work and long hours year-round to be prepared for their competition.
"In the offseason, they put in hours and hours and hours. All three of them went to a place called Wheaton Sports Center. And they play; they trained anywhere from four to six hours a day, every day during the summer. So they made sacrifices to get to where they got to, and I'm really proud of that effort that they put in," Masoncup stated. 
Going into state, the girls needed to practice in a more thorough and deliberate manner. They focused on things they knew they needed to work on and spent extra time preparing for the level of difficulty they would be playing against. 
Masoncup describes this process by saying, "…leading up to going to state we usually are really honing in on specific things for the girls to really work to get better as they get into the state series. There's certain things when you get to state that you need to be able to execute and plan for to be able to be successful." 
The training process for singles and doubles is slightly different, with doubles players having to learn to move and cooperate with each other on top of typical skills needed for tennis.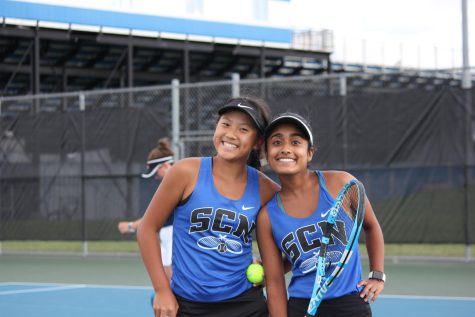 "It's all about movement when it comes to doubles because one person is at the net and one is at the back… for doubles you need to make sure that you and your partner are in sync and moving together as one," says Joseph. 
Despite training hard and playing competitively, the girls noted that they were also playing their matches for their own enjoyment. 
"Going to state, I think we were excited about just having won sectionals and we just wanted to have fun at that point. It was just fun," said Joseph.
Another player who trained extensively to qualify for state to represent North was Gizewicz. This wasn't easy for her due to her injury, and she had to work through this challenge both physically and mentally.  
"Mentally, I was kind of all over. I mean, I doubted myself a lot because of my shoulder. I felt like I was at a disadvantage the whole time," said Gizewicz. 
Despite these challenges, her overall takeaway was extremely positive. 
"I lost, but it was a really good experience… I'm happy that I made it to state because I'm not even supposed to be playing," Gizewicz said. 
All together, every player in State played to the best of their abilities and represented North with pride. 
"They worked hard that week leading up to state… qualifying for state is always an amazing accomplishment for them. So I'm really proud of them," Masoncup said.