Review: Taylor Swift Releases Her 10th Studio Album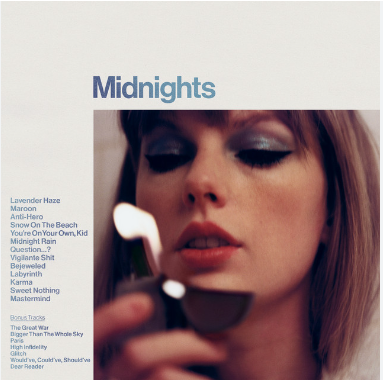 Taylor Swift released her 10th studio album "Midnights" on Oct. 21, and it exceeds all expectations. The album contains 13 tracks, not including the 3am version, a surprise release of seven additional tracks. 
Since 2006, Swift has been a well-known singer and songwriter. One of the most defining features of her career is her wide variety of albums and songs that span several different genres, not limited to, but including country, pop and folk. Each of her albums provide a different theme to entertain her massive fanbase, and this album is no different.  Swift's last two original audio albums "Evermore" and "Folklore" were released as surprise albums in 2020, during the midst of the Covid-19 Pandemic. Both albums have very slow, lyrical and folksy themes, which contain some of Swift's profound songwriting, taking a break from her regular upbeat pop albums from years previous. Swift refreshes our palettes with a brand new take on the pop genre with her new album. 
"Midnights" tells the stories of "13 sleepless nights throughout [Swift's] life." Each of the songs recount different memories and ideas but blend together well to create the vibe of this album. 
Swift begins the album with the opener "Lavender Haze" with the lyrics "Meet me at midnight." This iconic opener stands arguably among her best track 1s, like "Ready For It?" of "Reputation", "State of Grace" of "Red (Taylor's Version)" and "Welcome to New York" of "1989". This song perfectly introduces the concept of the album and sets the tone for the following songs. This beginning track tells the story of an undefined relationship that lies between the expectations of typical relationships. The lyrics explain, "All they keep asking me is if I'm gonna be your bride" and "The only kind of girl they see is a one night or a wife". The concept of the "Lavender Haze" is simply a middle ground, an experience between lovers where the definition of the relationship is the least of their concern. It's a perfect example of a "sleepless night" in Swift's life and is an incredible opener overall. 
A major standout song on this album is Swift's third track "Anti-Hero". Despite the upbeat pace of the track, it contains incredibly deep lyricism that paints a picture of Swift's insecurities and self-loathing that ultimately reflect her character as an "Anti-Hero". "It's me, hi/I'm the problem it's me," Swift repeats in her chorus. "It must be exhausting always rooting for the Anti-hero". Swift portrays her mental/emotional struggles with lines like "When my depression works the graveyard shift all of the people I've ghosted stand there in the room," and her most complex line stating, "Did you hear my covert narcissism/I might disguise as altruism/like some kind of congressman". Both lines explore her internal struggles and imperfections. She also illustrates her struggles with body image and physical appearance through lyrics: "Sometimes I feel like everybody is a sexy baby and I'm a monster on the hill." Explicitly, it is an odd line; however, it can be interpreted not only as a line describing insecurities, but also as social commentary on society's treatment of aging female artists. This track is something we haven't seen much of from Swift throughout her discography; although many songs describe insecurities, none dig as deep as this "Midnights" song. "'Anti-Hero' is one of my favorite songs I've ever written," Swift mentions in an Instagram clip she posted about the song, "I don't think I've ever delved this far into my insecurities before".
Another significant song worth mentioning is "Would've, Could've, Should've" featured on   "Midnights (3am version)", which is rumored to be written about Swift's 2009 relationship with singer/songwriter John Mayer. At the time, she was 19 (which is the track number of the song) while he was 32 (Swift's current age). The song tells the story of how the relationship between the two still impacts her today. "Living for the thrill of hitting you where it hurts/Give me back my girlhood, it was mine first," sings Swift. "And I damn sure never would've danced with the devil at nineteen." This emotional track has hit home with a majority of fans, and with us as well. It's her first song mentioning Mayer since her "Speak Now" song "Dear John," which fans speculate is because she's planning to do a re-record of the 2010 album.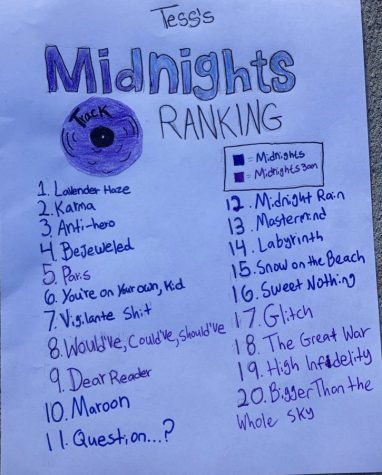 Hesitantly, we must admit one of our least favorites on the album is "Snow on the Beach" featuring Lana Del Rey. The idea of these two icons collaborating to make their own masterpiece sweetened the deal of the song, but we must admit it turned out to be a little disappointing. Our biggest critique is the lack of Del Rey herself. The song doesn't give her any of her own lyrics, it only features her background vocals. Many of Swift's collaborations also follow the theme of her being the main vocalist, like "no body, no crime" featuring the band HAIM from Evermore and "Soon You'll Get Better" with The Chicks. To have seen a Del Rey and Swift collab in the way that we saw Phoebe Bridgers and Swift collab in "Nothing New" from "Red (Taylor's Version)" where Bridgers had her own lyrics, would've been a dream come true. To be clear, this disappointment doesn't mean we hate the song; it still has great lyrics and melody and is undeniably catchy.
Although it's not one of our favorite albums in her discography, "Midnights" is a solid 9/10 album. It's easily one of the most cohesive pop albums she's produced, and it's safe to say there are no objectively bad tracks on the album (despite fan opinions). This being her first pop album since the pandemic started ("Lover" being the last pop-related album in 2019) is a perfect rebirth of Swift's career and brings forward a promise of similar albums in the future. It is a perfect addition to her discography and is expected to be a major incorporation of Swift's "Eras Tour" occurring from March-August of 2023. 
"Midnights" is streamable on all major platforms.