Tutorial Speakers Share Their Career Paths With Students
Every Tutorial Wednesday, North students have the option to listen to career speakers give presentations about their experiences in the LRC. Each Tutorial focuses on a different career path with one or two speakers.
On Nov. 2, the career speaker was Eric Kinzel, a former member of the film and television industries. Kinzel has worked for Fox News, ABC and with sports broadcasting as well as on the set of a number of television series.
"School teaches that if you put in the hard work and follow the rules you'll get the reward," said Kinzel. "That's not how the [film] business works."
Kinzel's presentation focused primarily on the skills needed to succeed in the film industry. Kinzel explained how he believes networking and making connections are important aspects of the film and broadcasting industry.
"You need to go after what you want to do," said Kinzel. "You don't wait. If you're passionate about something, find a way."
Nov. 16 featured two career speakers in the field of information technology. Steve Weishnaar, Network Manager for the City of St. Charles, and Jay Chickerneo, an independent IT consultant. The speakers talked about the logistics of their jobs. Weishnaar focused on the different IT positions in the city government while Chickerneo talked about his experiences working in supply chains. Both speakers recommended that students look into internship opportunities whether they are interested in going into IT or not.
"The IT speakers have a more traditional job schedule and can rely on being able to consistently work somewhere, but from [Chickerneo] we learned how much of his ability came from putting himself in a position to work for people and taking initiative," said Stephen Lynch, junior.
The career speaker on Dec. 7 was Sarah Hatten, Wigmaster and Makeup designer for the Lyric Opera of Chicago. Hatten focused on what her job at the Lyric entails.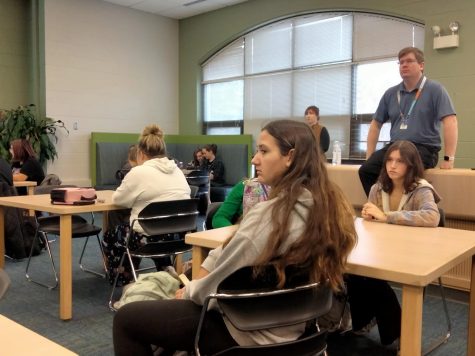 "I love talking to young people and giving them an insight to other careers that may not be as obvious," said Hatten. "When you look at the Career catalog or looking at choosing something for college, wig and makeup designer is probably not there."
Hatten described her job as working on the parts of costumes that are not clothing. She referred to the wigs and makeup as icing on the cake for costume design. Hatten brought a variety of wigs to use as examples. While Hatten focused on the details of her job, she also talked about the importance of networking and finding opportunities.
"[Kinzel and Hatten] put a lot of emphasis on how much putting yourself in the right position is necessary to get a job in those fields," said Lynch.
Career speakers will continue to present in the LRC on tutorial Wednesdays during the second semester. Jan. 18 will focus on architecture and construction with presentations from Peter Suhr, an architect, and Tom Serewicz, a contractor. Tutorial on Feb. 1 will have speakers focusing on finance.