Gallery: Mi Gente Acknowledges Las Posadas with a Traditional Latin American Feast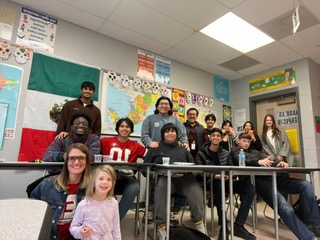 North's Mi Gente club recognized and celebrated Las Posadas during their meeting on Dec. 7 with a potluck-style feast. 
Las Posadas is a traditional Latin American holiday celebrated from Dec. 16 to Dec. 24. Historically, it is a holiday acknowledging part of the Catholic Christmas story, but it is associated with more than just its religious roots today. Today, Las Posadas is celebrated with activities and traditions along with a feast consisting of many customary dishes. 
At Mi Gente's meeting, members and advisers brought in a variety of standard Las Posadas food items. They enjoyed pan dulce, a type of sweet bread, and tamales. They also had ponche, a punch made with hibiscus along with other fruits and spices. Additionally, they also brought in Mexican Coca-Cola and Sidral Mundet, which is apple cider soda. 
Mi Gente used their meeting to deepen their understanding of the history and traditions associated with Las Posadas.